Movie News
New Spider-Man Movie Titled 'The Amazing Spider-Man' And New Suit Picture Released!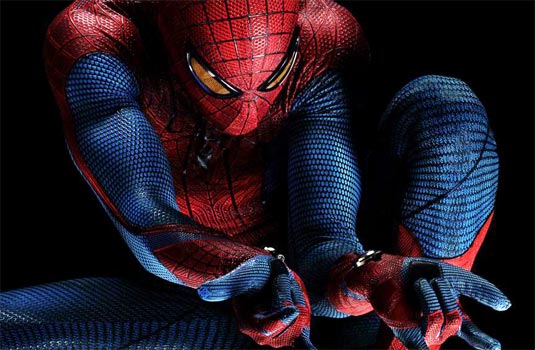 Columbia Pictures reportedly said Monday the title next Spider-Man movie will be The Amazing Spider-Man! And will open July 3. The studio simultaneously released a photo of Andrew Garfield as Spider-Man, the first shot of Garfield in the famous full mask and suit. As you know 'The Amazing Spider-Man" is the name of the original comic book, and this story will take viewers back to Peter Parker's early days as the web-loving hero. It was initiated with a March 1963 cover-date and continuously published by Marvel Comics until it was relaunched with a new numbering order in 1999. The Social Network co-star Andrew Garfield will play Piter Parker/Spidey, the titular web-slinger in the reboot of the film franchise. Emma Stone will play Gwen Stacey, his high school girlfriend, before he dated the iconic Mary Jane. The film will also star Rhys Ifans, Denis Leary, Campbell Scott, Irrfan Khan, Martin Sheen and Sally Field. The Amazing Spider-Man is being directed by Marc Webb from a screenplay by James Vanderbilt and Alvin Sargent, and Steve Kloves, based on the Marvel Comic Book by Stan Lee and Steve Ditko. Stan Lee, co-creator of Spider-Man, newly added,
I'm excited that Sony has chosen a director with a real penchant and understanding for the character. This is a brave, bold direction for the franchise, and I can't wait to see what Marc comes up with next."
Shooting has already begun and is now in production. The film, which is being shot entirely in 3-D, is scheduled for release July 3. The previous three films, produced on a total budget of US $597 million, grossed nearly $2.5 billion worldwide and unless you're living in cave you've probably seen one of the movies. This new one should be worth the wait! Don't you think so?
Andrew Garfield as Piter Parker/Spider-Man in Amazing Spider-Man (2012)