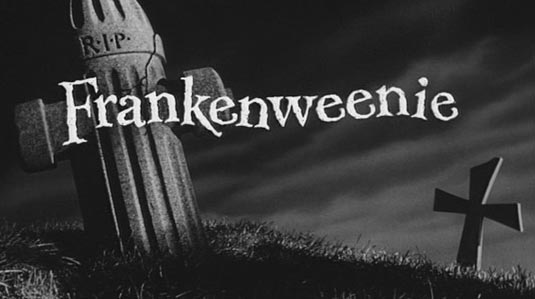 Finally some update on
Tim Burton
's upcoming
Frankenweenie
! We already know that the movie is based on Burton's short film from 1984, that this new version of the tale will be fulfilling of Burton's original ambition to turn the story into a full-length movie, and today, Walt Disney Pictures have (let's repeat once again – finally) released the official plot synopsis for the whole thing! Check it out! In Tim Burton's Frankenweenie young Victor conducts a science experiment to bring his beloved dog Sparky back to life, only to face unintended, sometimes monstrous, consequences. A stop-motion animated film, "Frankenweenie" will be filmed in black and white and rendered in 3D, which will elevate the classic style to a whole new experience. From creative genius Tim Burton comes "Frankenweenie," a heartwarming tale about a boy and his dog. After unexpectedly losing his beloved dog Sparky, young Victor harnesses the power of science to bring his best friend back to life – with just a few minor adjustments. He tries to hide his home-sewn creation, but when Sparky gets out, Victor's fellow students, teachers and the entire town all learn that getting a new "leash on life" can be monstrous. Set to be shot in black and white and then rendered in 3D over 200 puppets and sets have been crafted for the stop-motion film. The voice cast includes four actors who worked with Burton on previous films:
Winona Ryder
(Beetlejuice, Edward Scissorhands),
Catherine O'Hara
(Beetlejuice, The Nightmare Before Christmas),
Martin Short
(Mars Attacks!) and
Martin Landau
(Ed Wood, Sleepy Hollow).
Frankenweenie
opens in cinemas on 5 October, 2012.