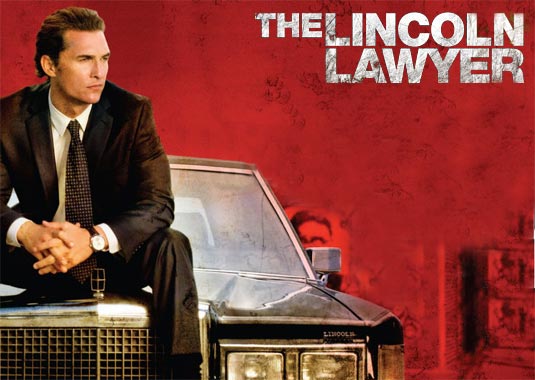 Lionsgate just released a new clip and poster for
The Lincoln Lawyer
. In the gripping thriller
The Lincoln Lawyer
,
Matthew McConaughey
stars as Michael "Mick" Haller, a slick, charismatic Los Angeles criminal defense attorney who operates out of the back of his Lincoln Continental sedan. Having spent most of his career defending petty, gutter-variety criminals, Mick unexpectedly lands the case of a lifetime: defending a rich Beverly Hills playboy (Ryan Phillippe) who is accused of attempted murder. However, what initially appears to be a straightforward case with a big money pay-off swiftly develops into a deadly match between two masters of manipulation and a crisis of conscience for Haller. Watch the clip after the jump and tell us what you think.
Matthew McConaughey as Mick Haller and Ryan Phillippe as Louis Roulet
Directed by
Brad Furman
from a screenplay by veteran screenwriter
John Romano
(Dark Angel, Intolerable Cruelty, Nights in Rodanthe), based on the novel by
Michael Connelly
, the cast also includes
Marisa Tomei, Josh Lucas, John Leguizamo, Frances Fisher, Bob Gunton, Laurence Mason, with Bryan Cranston
and
William H. Macy
. Lionsgate and Lakeshore Entertainment present a Lakeshore Entertainment Lionsgate production in association with Sidney Kimmel Entertainment Stone Village Pictures.
The Lincoln Lawyer
will be in theaters on Friday, March 18, 2011.
The Lincoln Lawyer Clip: Loaded Deck
The Lincoln Lawyer Poster