Movie News
New THE MAN WITH THE IRON FISTS Images Are Here!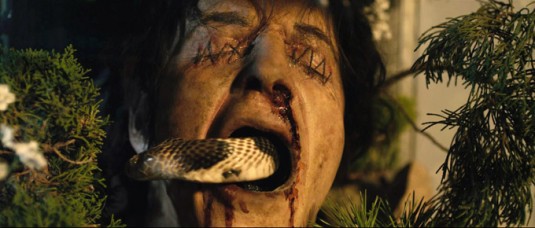 Thanks to it's director
RZA
,
The Man With The Iron Fists
 looks like a totally weird kung-fu movie full of violence and some crazy action. And I guess that's exactly why we're all interested in every single update, right? Well, here we go! We have three new cool images from the whole thing to share with you today, hope you'll like it! As you already know, beside RZA, this movie also stars
Russell Crowe
,
Lucy Liu
,
Rick Yune
,
Jamie Chung
,
Cung Le
,
Dave Bautista
,
Byron Mann
,
Daniel Wu
and
Pam Grier
. That's an awesome cast for a story of warriors, assassins and a lone outsider hero in nineteenth-century China who must unite to destroy the clan traitor who would destroy them all. RZA stars as the town's blacksmith who is forced by radical tribal factions of China's Jungle Village to create elaborate tools of destruction. When the clans' brewing war boils over, the stranger channels an ancient energy to transform himself into a human weapon. As he fights alongside iconic heroes and against soulless villains, one man must harness this power to become savior of his adopted people.
The Man With The Iron Fists
will hit 3D/2D theaters on November 2nd, 2012.