Movie Trailers
Next MAN WITH THE IRON FISTS Character Spot is All About Madame Blossom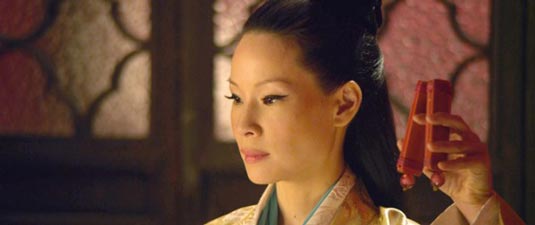 'Dangereuse' Lucy Liu is up next in another quick-character spot for rapper-turned-actor-turned-director RZA's The Man with the Iron Fists. She plays Madame Blossom in the upcoming kung fu flick, and it suits her just fine, if you remember her role from Kill Bill, in addition to this 'tease' below. All in all, it looks like there'll be a lot more of these short character spots coming in the next few weeks. Most definitely one for Russel Crowe and Rick Yune's character, and RZA's, of course. (Short) synopsis:
In feudal China, a blacksmith who makes weapons for a small village is put in the position where he must defend himself and his fellow villagers.
The Man with the Iron Fists comes to theaters on November 2nd, 2012, and it also stars Daniel Wu, Jamie Chung (Mulan in current season of Once upon a Time), Pam Grier, Dave Bautista, Cung Le, Osric Chau, Chia Hui Liu, Zhu Zhu, and Byron Mann.