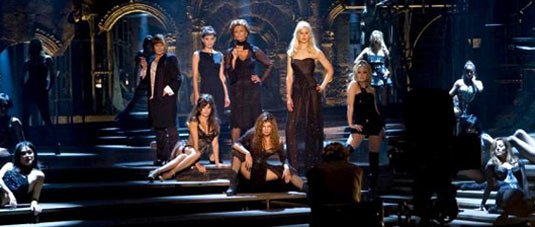 The first trailer for
Rob Marshall
's new musical "
Nine
" looks absolutely fantastic as well as great cast –
Nicole Kidman, Penelope Cruz, Marion Cotillard
,
Judi Dench
,
Sophia Loren, Kate Hudson,
Fergie
and
Daniel Day-Lewis.
The movie is based on the Broadway musical of the same name written by
Federico Fellini
and
Ennio Flaiano
. "Nine" is a musical following a film director named Guido Contini (Daniel Day-Lewis), who is in his middle age. He is trying to complete his next film. His main problem is that he has too many women in his life. Luisa (Marion Cotillard), his wife, Carla (Penelope Cruz) his sexy mistress, and Claudia, his muse and protege. The movie is scheduled to hit theaters on November 25, 2009.
or