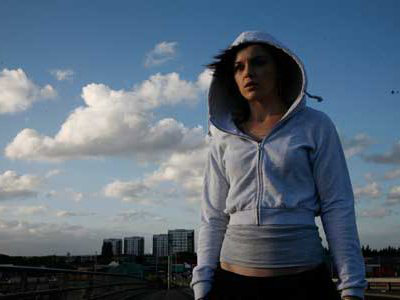 UPDATE: "Fish Tank" Trailer
UPDATE May 24, 2009 CANNES 2009 WINNERS
"Fish Tank," the latest movie from Academy Award-winning British writer and director Andrea Arnold premieres at the Cannes film festival on Thursday in competition for the coveted Palme d'Or.
This is Arnold's second feature following her 2006 Cannes Jury Prize winner "Red Road."
"Fish Tank" tells the story of 15-year-old Mia whose life is turned on its head when her mother brings home a new boyfriend.
Arnold casts the same unflinching, unprejudiced gaze and touches on the themes of her Oscar-winning short "Wasp" to create an original and unsettling tale for our age.
Following his acclaimed central performance in "Hunger," Michael Fassbender ("300," "Inglourious Basterds") stars opposite talented newcomer Katie Jarvis. Gritty, sassy and brutal "Fish Tank" also stars BAFTA-nominated Kierston Wareing (Ken Loach's "It's a Free World"), Harry Treadaway ("Control," "Brothers of the Head") and 12 year old Rebecca Griffiths making her film debut.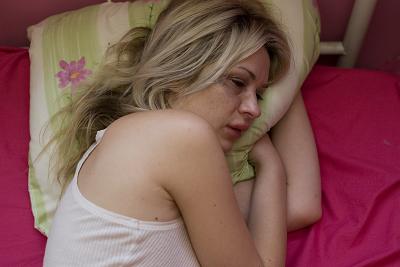 First review from Screendaily is positive, highlighting the performances of newcomer Katie Jarvis and Michael Fassbender – this was expected as Andrea Arnold manages to get topnotch performances from her actors.
"The heartbreaking tale of a teenage misfit has a grim inevitability to the plotting which is offset by Arnold's talent for multi-layered characters and naturalistic dialogue and her eye for finding the poetic moments in even the bleakest of lives. Critical support should be strong for Fish Tank although positive reviews and festival prizes could not generate a significant commercial life for Arnold's debut Red Road. …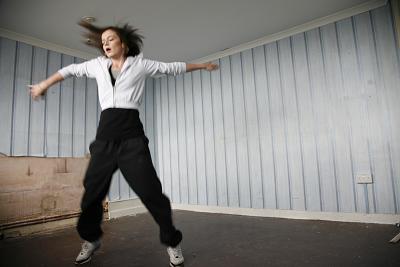 We see a very different Mia when she meets her mother's new boyfriend. Security guard Connor (Michael Fassbender) is sexy and soft-hearted. He takes an interest in Mia and her little sister Tyler. He is funny and flirtatious, generous with his money and his time. A wary Mia can't help but blossom under his gaze. It is only a matter of time before Connor and Mia act on the gleam that sparkles invitingly in their eyes. …"
"Destined for festival acclaim, the film will attract audiences drawn by Arnold's gift for unblinking observation and some  wonderfully naturalistic acting, particularly by Jarvis, who is onscreen throughout…Arnold presents the claustrophobic urban wasteland where they live as a breeding ground for anger and despair. The arrival of mother's new boyfriend, Connor (Fassbender), brings some hope due to his charming confidence and caring manner…
Fassbender and Wareing give honest and open performances as the conflicted adults and young Griffiths, another first-timer, is memorably sharp as the kid sister. The film belongs to Jarvis, however, and she makes the most of it with expressive features that convey Mia's mixed-up emotions from raging temper to sweet vulnerability. She will go far." Hollywood Reporter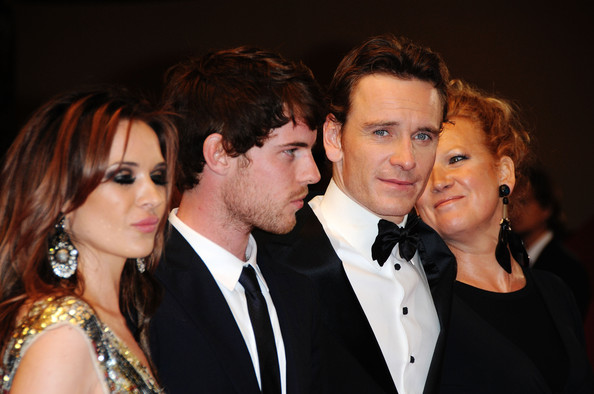 "Brit helmer Andrea Arnold's sophomore feature, "Fish Tank," offers such an entirely credible and — there's no way around it — grim portrait of a sullen teenage girl living in a rough housing project in England's Essex that it almost seems banal. However, what makes pic feel special is its unflinching honesty and lack of sentimentality or moralizing, along with assured direction and excellent perfs. Paradoxically, though immediately accessible to auds from the background depicted, "Fish Tank" is destined to swim only in arthouse aquariums, while likely adult-only ratings will keep teens — who really should see this — from getting in the door legally…
Elsewhere, the pic's fine-grained detailing — from the totally naturalistic way the characters talk here (steeped in obscenity) to the production design and the musical choices — bolsters the sense of utter authenticity. Less naturalistic is the decision to lense (executed immaculately by Robbie Ryan) in what looks like Academy ratio, with film instead of digital stock. But although this is a little jarring at first, it makes a kind of emotional sense given the story's claustrophobic atmosphere." Variety
IN COMPETITION
"Bright Star," Australia-U.K.-France, Jane Campion
"Spring Fever," ("Chun Feng Chen Zui De Ye Wan") China-France, Lou Ye
"Antichrist," Denmark-Sweden-France-Italy, Lars von Trier
"Enter the Void," France, Gaspar Noe
"Face," ("Visage") France-Taiwan-Netherlands-Belgium, Tsai Ming-liang
"Wild grass," ("Les Herbes folles") France-Italy, Alain Resnais
"In the Beginning," ("A L'origine") France, Xavier Giannoli
"A Prophet," ("Un Prophete") France, Jacques Audiard
"The White Ribbon," ("Das Weisse Band") Germany-Austria-France, Michael Haneke
"Vengeance," Hong Kong-France-U.S., Johnnie To
"The Time That Remains," Israel-France-Belgium-Italy, Elia Suleiman
"Vincere," Italy-France, Marco Bellocchio
"Kinatay," Philippines, Brillante Mendoza
"Thirst," ("Bak-Jwi") South Korea-U.S., Park Chan-wook
"Broken Embraces," (Los Abrazos Rotos) Spain, Pedro Almodovar
"Map of the Sounds of Tokyo," Spain, Isabel Coixet
"Fish Tank," U.K.-Netherlands, Andrea Arnold
"Looking for Eric," U.K.-France-Belgium-Italy, Ken Loach
"Inglourious Basterds," U.S., Quentin Tarantino
"Taking Woodstock," U.S., Ang Lee