'
Quantum of Solace
' filming began in January and has taken the crew from Britain to Panama to this moonlike landscape in northern Chile, which is standing in for Bolivia. It's a place that director
Marc Forster
said evokes Bond's "isolation and loneliness."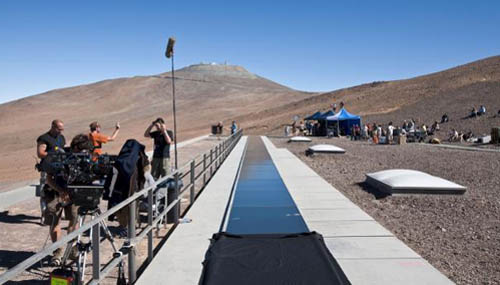 "He is an assassin, he is a secret agent, and that reflects a certain lifestyle, which is lonely," said Forster. Indeed, the big news on the set is that one of the two Bond girls,
Olga Kurylenko
, doesn't get in even a single kiss with star
Daniel Craig
. "Why would I be disappointed?" Kurylenko insisted. "I'm just doing my work." Forster, the youngest-ever Bond director at 39, was hired on by longtime producers Barbara Broccoli and
Michael G. Wilson
because of his emotionally intense films like "Monster's Ball" and "The Kite Runner." Despite the heightened realism of the last Bond film, not to mention its commercial success (over $500 million worldwide), the German-born Swiss director was wary of joining the bombastic franchise. Forster negotiated with producers to ensure he had as much creative control as possible on the $200 million-plus production. Nevertheless, he's still squeezed into the "framework of Bond." Filming is about halfway done on "Quantum," which is the name of the organization Bond is going up against. Craig said the emotional tone is lighter than "
Casino Royale
," in which Bond's lover Vesper Lynd betrayed him and then died, but only a smidgen so. "It's kind of Bond's journey into, at first we think it's vengeance, but it goes somewhere else," Craig said. "They've killed the love of his life, this organization, and we don't know who this organization are, and he needs to find out who they are. And it's for personal reasons but also professional reasons." During reporters' visit to the set, Forster was filming the climax. Offices and a lodge underneath one of the world's largest telescopes at Paranal Observatory acted as an eco-hotel, used by the villain. Back in London, it would be re-created, in order to be blown up, Broccoli said. Craig fired into the skylight above the offices, and Kurylenko's character Camille ran separately off the roof of the building, flipping into a balcony. Amalric, playing the villain Dominic Greene, roamed the set in post-Bond fight makeup, bloodied and bruised on his cheeks. A French director and actor known internationally for his star turn in "The Diving Bell and the Butterfly,"
Mathieu Amalric
was allowed no shortcuts to villaindom. "No scars, no eye that bleeds, no metal jaw," he said. "I tried everything to have something to help me. I said to Marc: No nothing? A beard? 'No.' Can I shave my hair? 'No. Just your face.' " Craig, muscles flexing under a dark polo shirt, said he was exercising more than he had on the "Casino Royale" set, to avoid injuries when doing his own stunts. He laughingly steered conversation away from health concerns. "It's just not very Bond-like," he said. "Bond should be able to do ten press-ups, then smoke 60 cigarettes, and then drink a bottle of something and pop a pill, I think." Kurylenko, a 28-year-old Ukranian-born model-actress with few films to her credit, said her character also has "a masculine spirit." "When she meets Bond, it clashes," she said. "She's careful and she doesn't trust that easily. So basically with men, she either uses them, or if they're no use, and she sees that they can't serve her, then she throws them away." Watch interview made by EXTRA:
…removed…
What's next for Bond?
Wilson said he expected Bond production to pause for at least a year following "Quantum of Solace." "I need a break for a little while," he said. Forster said he won't be back for Bond 23. And Craig, who turned 40 while filming in Panama, said he'd keep playing Bond — so long as the quality remains high.