Movie News
Paramount Moving Ahead With G.I. JOE: RETALIATION Sequel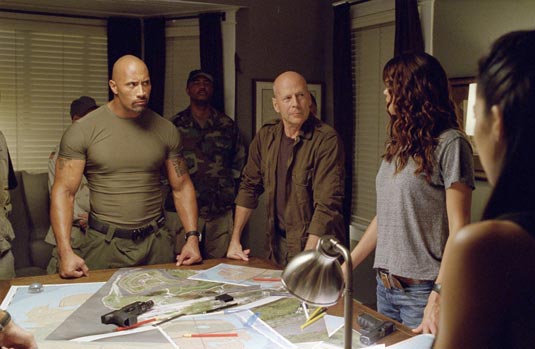 Dwayne Johnson has turned out to be quite a franchise-saver as he did exactly that for yet another one (the other being Fast and Furious, of course), as the huge opening of the sequel to the harshly criticized G.I. Joe: The Rise of Cobra has led to Paramount moving ahead with a third installment. Read on for details! With this, Dwayne "The Rock" Johnson has cemented his status as one of the biggest box office draws in Hollywood, as G.I. Joe: Retaliation took the North American box office by storm this weekend. Just as he helped to reinvigorate the Fast and Furious franchise at Universal (a sixth instalment is months away, while the seventh is rumoured to begin shooting this summer), over at Paramount are rubbing their hands in satisfaction with the performance of the G.I. Joe: The Rise of Cobra sequel, enough to move ahead with a third installment.
Yo Joe! After a $132 mil opening for G.I. JOE: RETALIATION, Paramount said it will move forward with a third JOE.

— Andrew Stewart (@Variety_Stewart) March 31, 2013
Synopsis:
In this sequel, the G.I. Joes are not only fighting their mortal enemy Cobra; they are forced to contend with threats from within the government that jeopardize their very existence. The film stars D.J. Cotrona, Byung-hun Lee, Adrianne Palicki, Ray Park, Jonathan Pryce, Ray Stevenson, Channing Tatum with Bruce Willis and Dwayne Johnson. Directed by Jon M. Chu, and produced by Lorenzo di Bonventura and Brian Goldner, from screenplay by Rhett Reese & Paul Wernick based on Hasbro's G.I Joe characters.
I personally don't like this franchise much because the original cartoon hasn't bought me, probably, so I might just go and give the film a chance because of The Rock, heheh. As for you who like it, enjoy your moments.