Movie Photos
PARANOIA Photo: New Poolside Look at Liam Hemsworth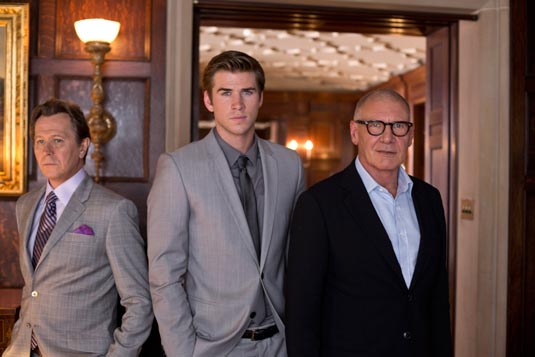 A new still from Robert Luketic's Paranoia shows Liam Hemsworth relaxing in the pool. But don't worry, this film shows promise for more than meets the eye. Check the photo out after the jump.
Paranoia is, in fact, a corporate espionage thriller in which Hemsworth's character finds himself in a high stakes game between two industry leaders, played by the legends Harrison Ford and Gary Oldman. Based on the bestselling novel by Joseph Finder, the screenplay was written by Jason Dean Hall and Barry Levy. Synopsis:
In Paranoia, Hemsworth stars as Adam Cassidy, an entry-level employee at the massive Wyatt Corporation, overseen by the cold, calculating CEO Nicholas Wyatt. When Cassidy brings himself to Wyatt's attention, the CEO uses his unlimited leverage to force Cassidy into spying on his former mentor and full-time business rival Jock Goddard. In completely over his head, Cassidy is soon acting as a pawn in a dangerous duel between two unimaginably powerful captains of industry, a rivalry that quickly escalates to lethal levels of intensity. Up against impossible odds, Cassidy must rely on his wit and guile to outmaneuver both Wyatt and Turner.
Paranoia also stars Amber Heard, Richard Dreyfuss, Lucas Till, Embeth Davidtz, Julian McMahon and Josh Holloway, and is set for August 16th, 2013 release.