Movie News
Pirates 4: Is Johnny Depp Worth $55 Million Dollars?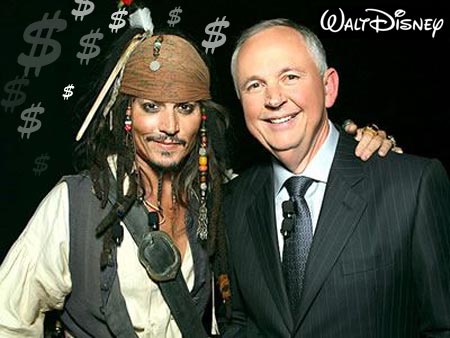 According to the Chicago Sun-Times, Walt Disney Company is lobbied hardcore to get Johnny Depp to reprise his role of Captain Jack Sparrow in the upcoming "Pirates of the Caribbean 4" . In order to woo Johnny back into Capt. Jack's boots, Disney reportedly offered a booty of $55 million dollars which, the report states, he gladly accepted making Depp the highest paid actor in Hollywood A source said:
"It's a hell of a lot of money for one movie but there's only one man who can play Captain Jack Sparrow – and that's Johnny Depp."
"Pirates just wouldn't be the same without him, so they were more than willing to smash the record books to land Depp again. He's been the star of the show every time."
Thanks to his latest deal with Disney, Johnny Depp has leapfrogged past Will Smith to become the top-earning star in Hollywood. According to Forbes magazine, Smith was last year's top earner – taking home an estimated $80 million overall. Depp already was No. 2, at $72 million, but now the actor will clearly move into the lead. According to a Disney source who spoke to this column, Depp's agreement to make a fourth "Pirates of the Caribbean" film, star as Tonto in the new big-screen "The Lone Ranger" and portray the Mad Hatter in director Tim Burton's new "Alice in Wonderland" will put the popular star on top. It's mainly because Depp will also get the biggest-ever paycheck for an individual film: a reported $55 million for the next "Pirates" flick. That surpasses the previous top earner, Tom Hanks (at $49 million), for the upcoming "Angels & Demons," based on Dan Brown's novel. Before that, Jim Carrey held the record for an individual film – $39 million paid for "The Cable Guy" back in 1996. That film's less-than-blockbuster performance led to a big re-evaluation in Hollywood about the skyrocketing paychecks for major stars. Matt Damon now reportedly gets a not-too-shabby $29 million per picture (largely thanks to the "Bourne" films' successes), Brad Pitt commands between $20 million and $24 million per picture and Tom Cruise gets up to $30 million.