Movie News
Quentin Tarantino's Best of List for 2011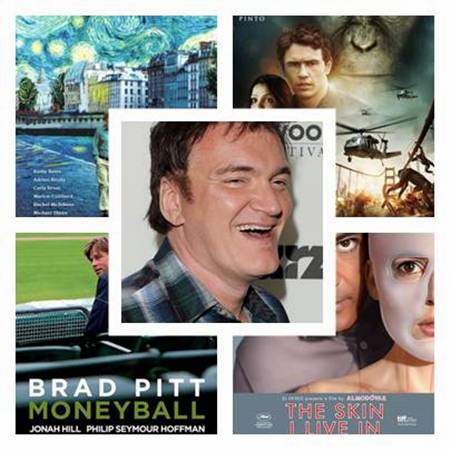 Quentin Tarantino, well known for combining styles from his favorite genres into brand new mash-ups has released his own best of list for 2011 and it's about as odd as you might expect.
Since Tarantino once said that he stole from every movie ever made I guess he will be using them at some point in the future, maybe already in his upcoming Django Unchained southern project.
Dark horses which had never been thought of and which had never even observed in the Tarantino's list to include turds of misery like Red State and The Three Musketeers.
Turns out, I feel and probably not the only one to have been a bit let down that he put Drive in the Nice Try Award category as well as run through the movies is the tie between amazing silent movie The Artist and the utterly average comedy Our Idiot Brother.
On the other hand, it's nice to see Tarantino gives some shine to The Skin I Live In that didn't get the love it might be deserved.
However, tastes and colors should not be discussed.
Check out the full list below:
Quentin Tarantino's official Top 11 of 2011
1. Midnight in Paris
2. Rise of the Planet of the Apes
3. Moneyball
4. The Skin I Live In
5. X-Men: First Class
6. Young Adult
7. Attack the Block
8. Red State
9. Warrior
10. The Artist / Our Idiot Brother (tie)
11. The Three Musketeers
Others considered in no particular order
50/50
Beginners
Hugo
The Iron Lady
Carnage
Green Hornet
Green Lantern
Captain America
The Descendants
My Week With Marilyn
Fast Five
The Tree of Life
The Hangover Part II
Mission: Impossible – Ghost Protocol
The Beaver
Contagion
The Sitter
War Horse
Nice Try Award
Drive
Hanna
Drive Angry
Real Steel
Best Director
Pedro Almodóvar
Bennett Miller
Woody Allen
Jason Reitman
Michel Hazanavicius
Best Original Screenplay
Midnight in Paris
Young Adult
Red State
Attack the Block
Our Idiot Brother
Beginners
Best Adapted Screenplay
Moneyball
The Skin I live In
Carnage
Rise of the Planet of the Apes
Hugo
X-Men: First Class
Worst Films
Sucker Punch
Potiche (Trophy Wife)
Miral
Insidious
Rampart
Straw Dogs
Paranormal Activity 3
Meek's Cutoff
Source: TF