Movie News
Ray Bradbury Joins Forces with Mike Medavoy to Bring DANDELION WINE to the Big Screen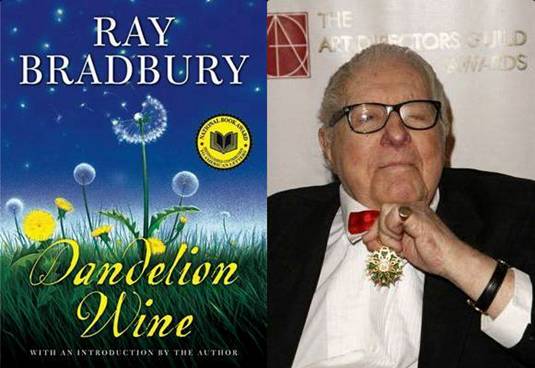 It is worth mentioning that many of
Ray Bradbury
's works have been adapted for TV and film, such as The Beast from 20,000 Fathoms, based on Bradbury's story 'The Fog Horn,' Something Wicked This Way Comes, The Martian Chronicles and Fahrenheit 451. Bradbury, as well, wrote the screenplay for director John Huston's version of Moby Dick, while his stories also have been adapted in Alfred Hitchcock Presents, and The Twilight Zone. Now, one of his most enduring novels,
Dandelion Wine
is set for a film adaptation.
Rodion Nahapetov,
who works as an actor (2008s Contamination) as well as a writer and director is attached to provide the script. A 1957 semi-autobiographical novel, developed from the short story, taking place in the summer of 1928 in the fictional town of Green Town, Illinois. The author, who turns 91 Monday, says:
This is the best birthday gift I could ask for. Today, I have been reborn! 'Dandelion Wine' is my most deeply personal work and brings back memories of sheer joy as well as terror. This is the story of me as a young boy and the magic of an unforgettable summer which still holds a mystical power over me.
 And Nahapetov reveals amazing coincidence:
I was deeply honored when Ray Bradbury chose me to write the screenplay adaptation for his novel 'Dandelion Wine.' When I began my studies at the Cinema Institute in Moscow, many foreign books were banned in Soviet Russia. Still, I decided to make my short film based upon 'Dandelion Wine' because this novel represented to me the childhood I never had. My childhood had been stolen by the ravages and destruction of post World War II Russia and 'Dandelion Wine' restored it back for me.
Phoenix Pictures' Mike Medavoy (Shutter Island, Black Swan) will produce a film version. The popular Ray Bradbury Theater (USA network TV series based on 65 of his short stories) won seven Cable Award Nominations. Bradbury's teleplay of The Halloween Tree earned him Emmy Award recognition and his animated film, Icarus Montgolfier Wright (1962), achieved an Academy Award nomination. Bradbury was also nominated for an Academy Award for aforementioned Moby Dick script. Watch trailer for the 1983s Something Wicked This Way Comes. [youtube]http://www.youtube.com/watch?v=Up7KHbJTmoo[/youtube]
Something Wicked This Way Comes – Trailer