Movie News
Remar, Russo and Wopat Join DJANGO UNCHAINED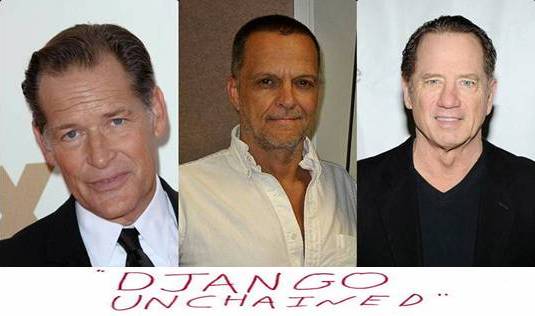 Three more names have been added to the
Quentin Tarantino
's
Django Unchained
growing cast.
James Remar
(48 Hours),
James Russo
(Beverly Hills Cop) and
Tom Wopat
(Dukes of Hazzard) are guys you have met before, but you probably don't remember their names. Plus, Presidio Pictures founder
Todd Allen
(The Apostle) has also joined a star-studded ensemble spaghetti-western. Remar, aka Dexter's Dad will play Ace Speck alongside Russo as Dicky Speck, two slave trading brothers who purchase Django at the Greenville Slave Auction. Wopat, best known as Luke Duke will play Marshall Gill Tatum. Allen will play Dollar Bill, the plantation overseer. It's interesting that Allen and Tarantino attended acting class together years ago. The cast also features the likes of
Jamie Foxx, Leonardo DiCaprio, Christoph Waltz, Kerry Washington, Samuel L. Jackson, Kurt Russell, Anthony LaPaglia, RZA
and
Don Johnson.
MTV recently talked to Jonah Hill who said that he would have been in the Tarantino's film, except that he already had other work booked:
I got offered the new Quentin Tarantino movie, and I can't do it because of my schedule… Doing Quentin's movie would have obviously been amazing, but my schedule didn't work out, which sucks.
Best known Remar was featured in the 2011 film X-Men: First Class and has also been cast in the heist film Setup and in Transformers: Prime. You likely know the story by now so I will not repeat it again. Unchained starts shooting in New Orleans next month, with a targeted release date of Christmas 2012. However, Django Unchained is set to be a very oddly placed holiday gift. Don't you think so?