Movie News
Renner in You're Not You with Swank, Thurman & Owen Go Blind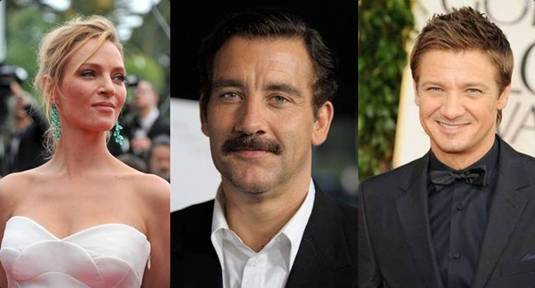 There was a phrase in the WW II, "Loose Talk Costs Lives". Now I heard producers around the Croisette performed such talks last week. A sort of, but not exactly like last year when Amy Adams was attached to the original version of John Hillcoat's The Wettest County, which has momentarily died then yep come back to life this year. Well,
Uma Thurman
and
Clive Owen
are reportedly in talks to star in the drama movie Blind. The film circles around a novelist (probably Owen) who was blinded in a car crash that killed his wife and several years later rediscovers his passion for life and writing when he embarks on an affair with the neglected wife (presumably Thurman) of an accused businessman. Norman Mailer's son, John Buffalo Mailer, wrote the screenplay. Oops, I almost forgot to mention fabulous
Jeremy Renner
. Two times Academy Award nominated actor who appears in a slew of other A-list projects (
The Bourne Legacy, Mission: Impossible 4
), was offered a lead role in a female-driven drama called
You're Not You
. Producer of this female-centered project is Molly Smith known from previous dramedy Something Borrowed.
Hilary Swank
was already attached. It sounds kind of thin. Next, helmers
Radu Mihaileanu
(The Concert) and
Guillaume Canet
(Tell No One) will direct their English-language debuts with France's Les Productions du Tresor. Canet has written the screenplay for what's described as an "expensive" movie set in the U.S and France, in English and French, with thesps from both sides.
Mark Pellington
will be helming
Liev Schreiber
and
Alice Eve
in a psycho thriller titled
Story/Teller
. The story appears to be set on a "world of secrets, guilt and paranoia." But wait, there's even more.
Derek Luke
and
Lindsay Sloane
have teamed up for the project
Seeking a Friend for the End of the World
, Rabbit Hole thesp
Miles Teller
will topline
21 And Over
, directed by The Hangover writers
Jon Lucas
and
Scott Moore
, 300 screenwriter Kurt Johnstad has been drafted to rewrite the script for
James Mangold
's
The Gunslinger
, French comedian
Dany Boon
and German actress
Diane Kruge
r have joined the high-concept action-adventure comedy
Fly Me To The Moon
, helmed by
Pascal Chaumeil
, and lastly,
Darren Bousman
(Saw) is going direct horror flick being described as a The Shining-style called
The Barrens
. And this is just a taste. Imagine how awesome news to come out of Cannes this week. Follow us on
Twitter
.