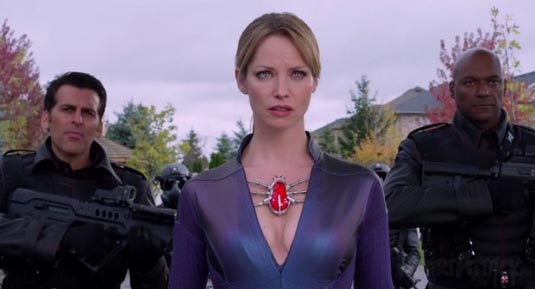 People from Sony Pictures have decided to grace us with another treat – this time with four clips from the latest installment in their based-on-a-popular-game
Resident Evil
series,
Resident Evil: Retribution
– titled Heads Up, Ada Wong, It Will Be Enough and Chain Fight, respectively. You can view them below. I don't know if it's just me, but have you noticed that there's something off with the car during the undergroud chase in Heads Up clip? Kinda like unfinished and thus too obvious CGI, but I might be mistaken. And to sum it up, you get car chase, two 'cat-fights', and an awesome chain-fight (as the title says). Take your pick and sound off your fav in comments section below. Directed by
Paul W. S. Anderson
, Resident Evil: Retribution is set to hit the theaters on September 14th, 2012, and stars
Milla Jovovich
,
Michelle Rodriguez
,
Sienna Guillory
,
Kevin Durand
and others.