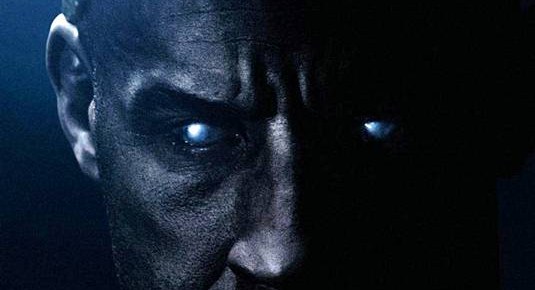 Riddick
trailer has arrived! Yep, a brand new
dark
video with
Vin Diesel
fighting for survival against alien predators! Time for him to become more powerful and dangerous than ever, that's exactly why in the latest poster for the whole thing we have a quite simple message from director
David Twohy
and his hero:
rule the dark
! Head inside to check him out… The third installment in the
The Chronicles of Riddick
film series revolves around Diesel's title character left for dead on a sun-scorched planet that appears to be lifeless. But, as we said at the beginning, he finds himself fighting for survival against alien predators more lethal than any human he's encountered.
Download Riddick
HD-Quality 1080p [1920 px] Trailer
  − 73 Мb (Mp4)
HD-Quality 720p [1280 px] Trailer
− 37 Мb (Mp4)
HD-Quality 480p [852 px] Trailer
− 12 Мb (Mp4)
The only way off is for Riddick to activate an emergency beacon and alert mercenaries who rapidly descend to the planet in search of their bounty. The first ship to arrive carries a new breed of merc, more lethal and violent, while the second is captained by a man whose pursuit of Riddick is more personal. With time running out and a storm on the horizon that no one could survive, his hunters won't leave the planet without Riddick's head as their trophy…
Beside Diesel,
Riddick
also stars
Karl Urban
,
Jordi Molla
,
Matt Nable
,
Katee Sackhoff
,
Bokeem Woodbine
,
Dave Bautista
,
Conrad Pla
,
Raoul Trujillo
,
Nolan Funk
and
Keri Hilson
, and the movie is set to hit theaters on September 6th, 2013. Click on the poster to enlarge & let us know what you think!