Movie News
Rock of Ages Producers Cast Bryan Cranston for the Mayor Role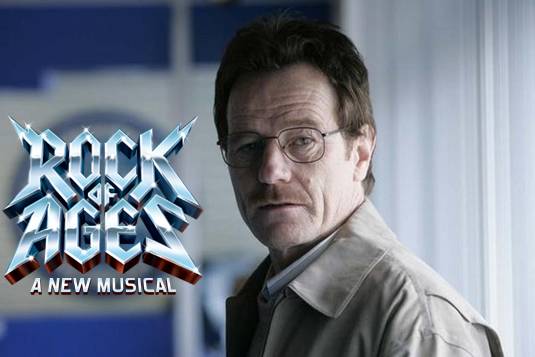 If you haven't been following Adam Shankman on Twitter you might have missed last weekend's announcement that Bryan Cranston will play the Mayor of Los Angeles in the upcoming jukebox musical Rock of Ages.
Shankman wrote on Saturday, April 30:
So honored! Bryan Cranston is joining the cast of #rockofagesmovie! LA has a mayor!"
The Emmy Award-winner will play Catherine Zeta-Jones' husband in the blockbuster, which will also star Tom Cruise, Alec Baldwin, Julianne Hough and Russell Brand.
Hairspray's director told Variety:
Bryan Cranston is one of my favorite actors alive, and I cannot believe that I have the great fortune to be working with him on this project."
Crantson is well-known for his roles in Breaking Bad and Malcolm in the Middle. He, as you know, won an Emmy award for Outstanding Lead Actor in a Drama Series for Breaking Bad. Well, Crantson will now play the Mayor of Los Angeles for the rock musical set in the city during the 1980s.
This drama musical follows Sherrie, a small town girl who grabs the attention of big city rocker Stacee. The two meet at the Sunset Strip club Rock of Ages, fall in love and try to stay together in the course of '80s rock anthems.
Former Dancing with the Stars champ Julianne Hough's taking the role of Sherrie and, of course, Tom Cruise's playing aging rocker Stacee Jaxx. A singer Mary J. Blige has, as well, signed on to play a character named Justice.
The Twitter-happy helmer revealed on Wednesday that Rock of Ages would be released on June 15th, 2012 and that rehearsals will start in two weeks. Filming for the musical is slated to begin shooting in May.
Check out the unofficial Breaking bad trailer and follow us on Facebook.
[youtube]http://www.youtube.com/watch?v=–z4YzxlT8o[/youtube]
Breaking bad, trailer