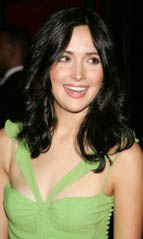 Rose Byrne will join Nicolas Cage in the sci-fi thriller 'Knowing.' The project is set to begin shooting later this month in her native Australia.
Byrne will play the daughter of a woman who buried a 1962 time capsule bearing the dates of the assassinations of historical figures, the hotel fire death of the wife of a professor (Cage) and an imminent world apocalypse.
After the professor discovers its contents and alerts her, the initially skeptical Byrne begins remembering strange incidents from her childhood.
Byrne, received a Golden Globe nomination this year for supporting role in 'Damages'. After its first season wrapped last fall, FX ordered two additional seasons. Byrne's feature credits include 'Marie Antoinette', '28 Days Later' and 'Troy'.