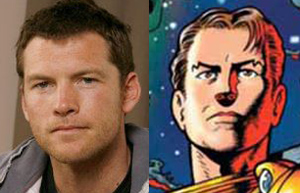 Sam Worthington that we just had a chance to see in the Clash of the Titans has confirmed his role in the movie based on the Dan Dare comic.
So get ready for Worthington in the title role of Dan Dare, chief pilot in the Interplanet Space Fleet!
Dan Dare is a legendary comic book character in the UK, often being referred to as the British Buck Rogers or Flash Gordon.
This British science fiction hero was created by illustrator Frank Hampson. Hampson not only invented Dan Dare and his entire world, but he also put together the original team of artists and wrote the first two stories.
So, Dan Dare appeared in the Eagle comic story Dan Dare, Pilot of the Future in 1950. And if you wonder what's so speciall about this hero… well, he is excellent at jiu jitsu, although he most often found non-violent solutions to predicaments, and he was bound by a sense of honour, never lied, and would rather die than break his word.
That's maybe the thing that could be interesting to watch, especially if you're a fan of Worthington, so you can already start to imagine him in this role!
Anyway, this is what he said about this project:
"Dan Dare, same type of thing – we're seeing how they're going to develop it and where they want it to go," he said. I'm at that stage now where I want to do movies where I get my $16 worth… Something like Dan Dare, there was something in the reboot by Garth Ennis that was amazing."
At this moment no writer or director was attached, but since you all hear how Worthington is excited, it could be some "big" director name involved in the whole thing. The rest of the cast is still unknown, but we're more than sure we'll soon be back with more details about this adaptation.
So, it seems that Worthington just loves himself a big budget bust-up. We have no doubt that this 33 year-old actor will make great space leader, and until the new (but legendary as well) hero arrives – make sure you watch Worthington in Clash of the Titans.