Movie News
Saoirse Ronan Set to Star in the Movie Adaptation of Stephanie Meyer's The Host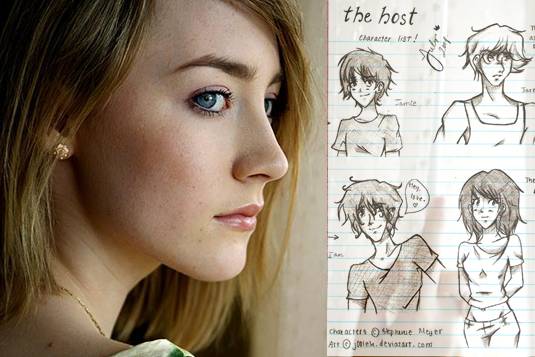 Today's news is a big one as Deadline reportedly revealed an Irish thesp Saoirse Ronan had signed on to play the lead role of Melanie Stryder.
Stephenie Meyer's post – Twilight an adult science-fiction novel The Host, was Andrew Niccol (Lord of War) previously brought on board to rewrite, back to September 2009. At the time Susanna White (Nanny McPhee Returns) was attached as the helmer, but has since dropped off and Niccol may still decide to direct as he has completed casting of the Now movie.
The Host is a love story set in the near future on Earth, which has been assimilated by an alien species of benevolent parasites that call themselves "Souls" and they subsume the conscious of humans taking possession of their bodies. The Wanderer is one such soul (so named because she has wandered among so many different worlds) is fused with a dying human named Melanie Stryder, in an attempt to locate the last pocket of surviving humans on Earth. The Wanderer cannot subsume the forceful Melanie, and they battle for the girl's memories and her spirit.
According to plot details the goal is for Ronan to play both Melanie and The Wanderer.
The film is being produced outside the studio system known as independent or indie movies, with sale of the project set to launch at the Cannes Film Festival next week. Neither start dates nor locations are locked in at this point.
Apropos Ronan, she starred in Hanna earlier this year and will next be seen in Violet & Daisy, the directorial debut of Geoffrey Fletcher (the screenwriter of Precious) in which Ronan will once again play a teenage assassin opposite Alexis Bledel. The 16-year-old actress is close to signing to play Itaril in the two-part Peter Jackson Hobbit movie and is rumored to be part of Joe Wright's Anna Karenina alongside Keira Knightley.
Check out highly scheduled  Saoirse Ronan in her latest flick  and follow us on Facebook.
[youtube]http://www.youtube.com/watch?v=1zd4zGt13IE[/youtube]
Hanna, Trailer(HD)