Movie Trailers
Seth Rogen's THIS IS THE END Apocalyptic Comedy Gets Off to a Good Start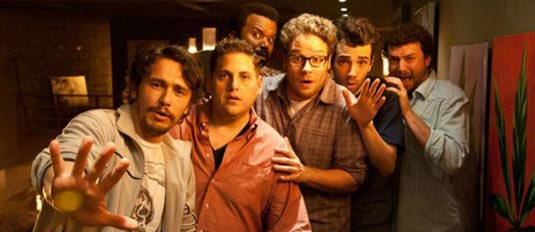 We've been waiting for Seth Rogen and Jay Baruchel's apocalyptic movie ever since their short Jay and Seth Vs. The Apocalypse was released back in 2010. And now, it's finally here. Take a look at the first trailer for This Is The End, where all of Rogen and Baruchel's friends play themselves, but beware! – this is a red band trailer, so consider it NSFW. Here's the official synopsis:
The comedy This Is The End follows six friends trapped in a house after a series of strange and catastrophic events devastate Los Angeles. As the world unravels outside, dwindling supplies and cabin fever threaten to tear apart the friendships inside. Eventually, they are forced to leave the house, facing their fate and the true meaning of friendship and redemption.
It stars also Jonah Hill, Emma Watson, Danny McBride, Michael Cera, Craig Robinson, Paul Rudd, Martin Starr, Rihanna, Aziz Ansari, Kevin Hart and probably Jason Segel (but in the trailer they say he and Cera are dead now, so we'll just have to wait and find out). Good grief, we hope this is funny at least as Pineapple Express or Zack and Miri Make a Porno. This Is The End will be out on June 14th, 2013.