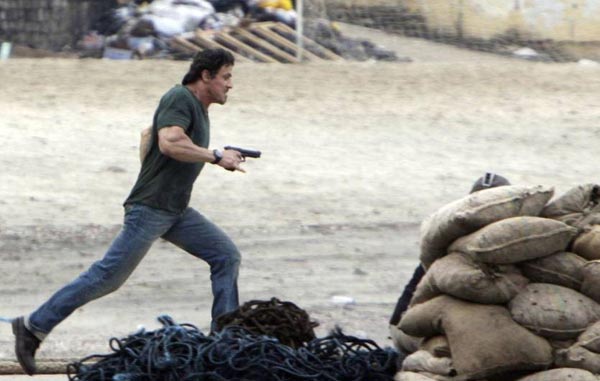 The guys at
SpoilerTV
got the first few photos of
Sylvester Stallone
in action, doing some stunt work on the set of "
The Expendables
" in Rio de Janeiro. "The Expendables" is about a team of mercenaries led by Barney Ross (Stallone) head to South America on a mission to overthrow a dictator. The team consists of Lee Christmas (
Jason Statham
), Bao (
Jet Li
), Gunnar Jensen (
Dolph Lundgren
), and Emanuel (
Mickey Rourke
), who head to South America on a mission to overthrow a dictator. "It's a 1980s movie with today's technology. But in those days, the female leading character was a helpless girl, waiting to be rescued by the hero. Now we have a very strong female character that evolved to this form while I was writing the script. But except for this, yes, it's a 1980s movie," said Sly who is writer and director of the movie.
Randy Couture,  50 Cent, Steve Austin, Terry Crews
, and
Charisma Carpenter
aslo stars the movie which is due to hit theaters on April, 23, 2010.