Movie News
Some Concept Art For Pixar's Cancelled NEWT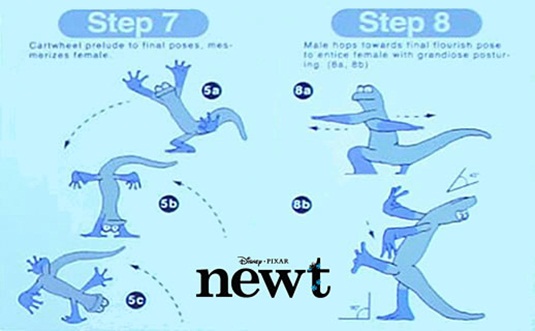 Newt was originally slated to hit theaters in summer 2011, but was moved back to 2012 to make room for Cars 2. However, with both Brave and Monsters, Inc. 2 set for 2012, Newt mysteriously disappeared from the schedule. Pixar's unfinished work is about a blue-footed newt, a tiny little salamander, who finds the one remaining mate of his species. Gary Rydstrom was set to direct the story, but similarities to the storyline in the animated film Rio might have led the head of Pixar, John Lasseter to put a stop to project. Meanwhile, an illustrator/visual development artist named Katy Wu has recently posted her set of concept art for the project that would have inspired the feature. Head inside to check it out.
Here was the plot synopsis offered for Newt:
What happens when the last remaining male and female blue-footed newts on the planet are forced together by science to save the species, and they can't stand each other? That's the problem facing Newt and Brooke, heroes of "newt," the Pixar film by seven-time Academy Award(R) winner for sound Gary Rydstrom, and director of Pixar's Oscar-nominated short, "Lifted." Newt and Brooke embark on a perilous, unpredictable adventure and discover that finding a mate never goes as planned, even when you only have one choice. Love, it turns out, is not a science.
Source: Bleeding Cool