Movie News
STAR TREK INTO DARKNESS Unveils High-Tech App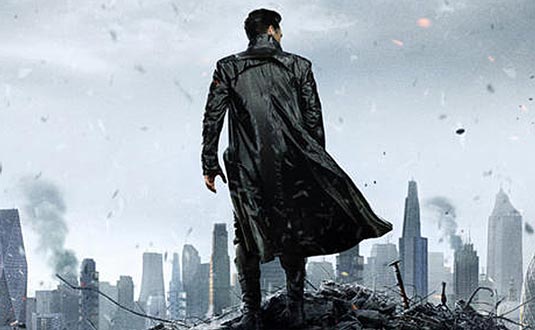 In a world in which smartphones are resembling mini-computers, it makes sense that Star Trek Into Darkness would have an app to suit it well.
A smartphone app for fans anticipating J.J. Abrams' upcoming Star Trek sequel will launch at the end of this month, and will allow users to go on Starfleet-esque missions by inputting audio-visual elements into their phones.
For example, a fan could watch the Into Darkness trailer on TV, and the app's audio tool would hear it and might reward its user with points for unlocking a new Star Trek image or wallpaper. The app's geolocation tool might reward fans for going to a movie theater, while those who snap a photo of a Star trek Into Darkness poster could earn points to unlock a video.
The app from Paramount Pictures and Qualcomm was announced on Tuesday at the International CES show in Las Vegas, by Qualcomm CEO Dr. Paul E. Jacobs.
"This app harnesses the power of the smartphone to bridge the digital and physical world, allowing the studio to market the film in the real world and simultaneously bring users into the film's story and world," Jacobs said.
As the highly-anticipated film's release date nears, one special prize will be unlockable only by those who watch an Into Darkness TV spot – with app in hand. In addition, one fan will win a trip to the Star Trek Into Darkness premiere.
More information on the app, and rules for entering the premiere contest, can be found at www.StarTrekMovie.com/CES.
Star Trek Into Darkness opens on May 15th, 2013 and it stars Chris Pine, Zachary Quinto, Karl Urban, Zoe Saldana, Benedict Cumberbatch, Alice Eve, Simon Pegg, Anton Yelchin, John Cho, Peter Weller and others.