Movie News
STAR WARS: EPISODE VII Poster Design – Disney Wants Drew Struzan Out of Retirement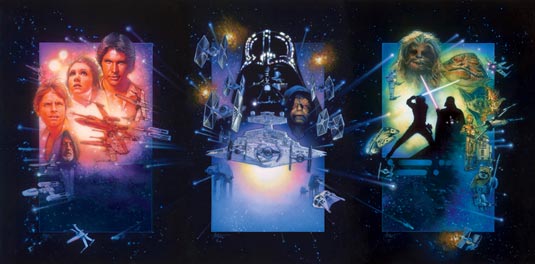 Over the course of his long career, artist Drew Struzan has worked on some of Hollywood's most beloved franchises, including Blade Runner, Indiana Jones, Back to the Future and Hellboy. Of course, he's perhaps best known for his promotional work on Star Wars – he designed the posters for 1978 re-release of A New Hope (actually he co-worked on this one with Charles White III), the Prequel Trilogy and Special Editions, as well as numerous album, novel and comic book covers.
Fanhattan recently had a chat with iconic poster artist and asked the retired master whether he might get back in the business with the new Star Wars films. The good news is that Disney has already approached Struzan to do some work for the new trilogy, which will see the first installment release sometime in 2015, but the bad news is that Struzan hasn't decided whether he'll actually do it.
He said:
I got a couple calls already this week on Star Wars from Disney. Oh my god, I'm trying to be retired! You know, I spent 35 years painting Star Wars. [laughs] I painted Star Wars before most of you were born! But I guess there is always a chance. There's no intention… If the opportunity arises, it will be a real temptation. But it's going to have to be a real temptation to get me away from my wife and my little grandkids and my family… But, you know, never say never. All things are possible."
I'm not sure how Star Wars posters without the touch of Drew Struzan would look, though I'm sure there's a few artists who could do their best to impersonate his trademark style. At least Struzan isn't ruling it out, but surely being retired would be a reasonable excuse for him not to return.
You know what, Disney? It's high time you give us some decent, ACTUAL information about ANY detail regarding the films, because this vague talks, unconfirmed rumors and all much-ado-about-nothing hubbub is REALLY starting to get on my nerves.