Movie News
STAR WARS: Jon Favreau, J.J. Abrams and Other Directors Give Their Reaction To The Big News; Plus How to Make a Lightsaber Infographic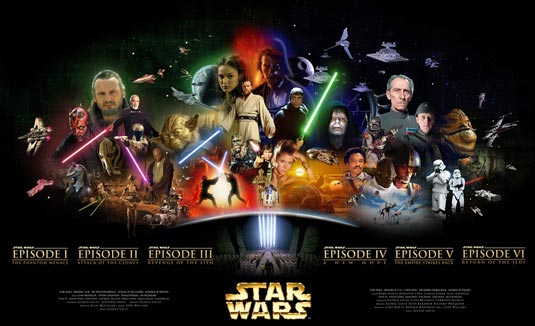 What a week! News about Disney buying Lucas Entertainment are all around, echoing, ushering us all in what I think will be a new (and exciting!) era. Star Wars fans are making their guesses as to who will helm the new Star Wars: Episode VII, who will star and what the storry will center on. In all that hubbub, some filmmakers have decided to give their reaction to the subject. Read what J.J. Abrams, Jon Favreau, Shawn Levy, Robert Rodriguez, Kevin Smith and George Nolfi have to say after the jump! J.J. Abrams:
"Part of me? Thrilled. Part of me? Terrified. Most of me? Thrillified."
Jon Favreau:
"The idea of another trilogy that further shrouds the Force in mystery as its secrets are lost to time – that's extremely compelling. I want so bad for it to be good. Can you imagine?"
Shawn Levy:
"The Star Wars franchise is nothing short of a generational touchstone… I literally can't think of any comparable cultural phenom that has so pervasively shaped and galvanized viewers to the extent that Star Wars has. It's embedded in my — and our — cultural DNA in a unique way and these are enduring strands."
Robert Rodriguez:
"What an amazing world and legacy George Lucas has created — and it needs to continue in capable hands. I do think Disney is the best studio for the job and the fact that they brought in Kathleen Kennedy? I can't imagine a better scenario. And 2015 can't get here fast enough."
Kevin Smith:
"Lots of folks asking what I think about the recent announcement that Disney is now the proud owned of the Star Wars universe. I'm all for it. Can't wait to see all the new movies they're gonna make. The 7 year old Kev who saw Star Wars during its initial release in 1977 is finally gonna get all 9 Star Wars movies he was promised back then. I'll be first in line to pay for whatever they do."
George Nolfi:
"Star Wars literally defined 'the magic of movies' to me as a child. No other film had more impact on my subconscious desire to become a filmmaker. I can't imagine a larger event-film for our generation than a sequel to Return of the Jedi."
I can only comment with – I hear you, Kevin Smith! On top of this all, EW Magazine was able to catch up with George Lucas at Ebony magazine's Power 100 Gala on Friday, and while the Star Wars creator has already released numerous statements about selling LucasFilm to Disney, they did ask him just how involved he will be in the hiring of a director for Episode VII. His answer? A pretty non-committal one!
"I've turned it over to a wonderful producer, Kathy Kennedy, and I've known her for years," he said. "She's more than capable of taking it and making it better than I did."
"It's very sad," Lucas added about his decision to sell his company. "It's 40 years of work and it's been my life, but I'm ready to move on to bigger and better things." And what are those bigger and better things? Well, he'll be spending the majority of his time dealing with his charitable endeavours, but that doesn't mean that filmmaking it completely in his past.
"Mostly it will be philanthropy but I'm also going to make my own little personal films. I barely got Red Tails into the theaters. The ones I'm working on now will never get into the theaters."
As you probably already know, Walt Disney is planning to release Star Wars: Episode VII in 2015, followed by a new Star Wars film every two to three years. While we wait, take a look at the how-to-make-your-own-lightsaber infographic and tell me – I'm curious – who do you see directing it, and what's your opinion on the plot? Who should star? Would you like to see Luke and Leia again (of course, as 'grown-ups')?
photo credit: newark.com