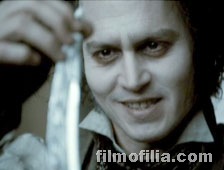 Today, we have a very detailed trailer for the upcoming Johnny Depp musical "Sweeney Todd." It sets up the story right from the beginning and introduces us to Benjamin Barker (Depp), who eventually becomes the murdering Todd.
The movie revolves around a wrongfully imprisoned barber (Depp) in Victorian England who sets out to seek revenge on the judge (Alan Rickman) who imprisoned him. It is scheduled to hit theaters next weekend (December 21st).
Depp and director Tim Burton have had an illustrious collaboration over the years. "Ed Wood," "Edward Scissorhands," "Sleepy Hollow," "Corpse Bride" and "Charlie and the Chocolate Factory" are some of their films.
[youtube]http://www.youtube.com/watch?v=q7xlrx_oYTs[/youtube]