Movie News
Get Ready To Learn Your Alphabet With THE ABCs OF DEATH Red Band Trailer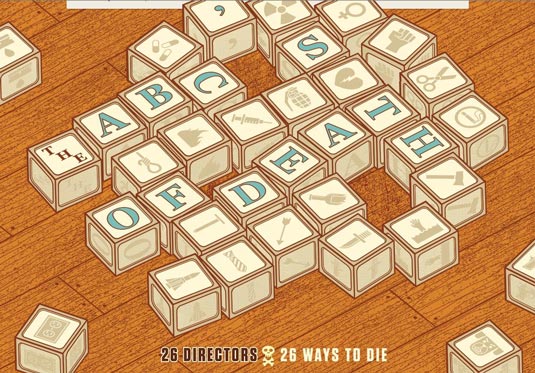 Ladies and gentlemen, it's time to get literary and remind ourselves of our aBCs. After a run on the festival circuit, the first, very red band trailer for horror anthology
The ABCs Of Death
has appeared online. The premise of the project is simple, as you may recall – twenty six directors with minimal financial resources but full creative freedom were given a letter and the request to construct an on screen death in a manner connected to that letter. Have a look at the trailer: Directors involved in the project are:
Kaare Andrews
(Altitude), USA
Angela Bettis
(Roman), USA
Ernesto Diaz Espinoza
(Mirageman; Mandrill), Chile
Jason Eisener
(Hobo With A Shotgun), Canada
Bruno Forzani & Héléne Cattet
(Amer), Belgium
Adrian Garcia Bogliano
(Cold Sweat), Mexico
Xavier Gens
(Frontiers; Hitman), France
Jorge Michel Grau
(We Are What We Are), Mexico
Noburo Iguchi
(Robo Geisha), Japan
Thomas Malling
(Norwegian Ninja), Norway
Anders Morgenthaler
(Princess), Denmark
Yoshihiro Nishimura
(Tokyo Gore Police), Japan
Banjong Pisathanakun
(Shutter),Thailand
Simon Rumley
(Red, White & Blue), UK
Marcel Sarmiento
(Deadgirl), USA
Jon Schnepp
(Metalocalypse; The Venture Bros.), USA
Srđan Spasojević
(A Serbian Film), Serbia
Timo Tjahjanto
(Macabre), Indonesia
Andrew Traucki
(The Reef), Australia
Nacho Vigalondo
(TimeCrimes), Spain
Jake West
(Doghouse), UK
Ti West
(House of the Devil; The Innkeepers), USA
Ben Wheatley
(Down Terrace; Kill List), UK
Adam Wingard
(A Horrible Way to Die), USA
Yudai Yamaguchi
(Yakuza Weapon), Japan
Lee Hardcastle
(T Is For Toilet), UK And I can't wait to see the results! Especially since I consider the time between Halloween and New Year perfect for watching good horrors. The ABCs of Death comes out everywhere on-demand on January 31st, 2013 and in theaters on March 8th, 2013.