Movie Photos
First Look: THE AMAZING SPIDER-MAN 2 Mask Revealed; Dane DeHaan Getting Heavier For the Role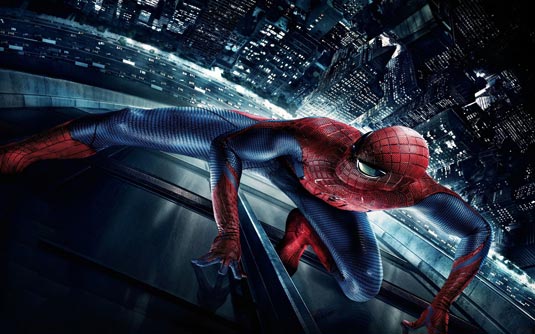 Rumors about Peter Parker (
Andrew Garfield
) getting a slight costume makeover in
The Amazing Spider-Man 2
were accompanied shortly by confirmation from director
Marc Webb
. He later revealed an image of mask lens with curled upper-corners, resembling the Spidey's classic comic book design (illustrated by Steve Ditko), as well as the character's more contemporary 'Ultimate Spider-Man' comic book appearance. There was some inconsistency over similarities to masks worn by other Spider-Man characters (including, a villain rumored to be introduced in Webb's sequel), but we now have confirmation those are part of Pete's re-designed costume. We should get to see other elements, like the "gnarly webshooters" Webb promised, soon enough – no matter how loud we might cry out for them NOT to appear. Here is the Spidey's mask in Amazing Spider-Man 2, thanks to
Coming Soon
– click for bigger pic:
Pete definitely has motivation for upgrading his gear, for more reasons than just Lizard tearing his previous costume in shreds during their showdown. He's facing – at least – two villains this time, including the admiring spectator Max Dillion (Oscar-winner
Jamie Foxx
) who becomes Electro, and Oscar-nominee
Paul Giamatti
, playing that dangerous genetic experiment known as Rhino.
Dane DeHaan
(Chronicle) also joins the cast as Pete's old friend Harry Osborn, a role for which he told the
New York Times
"Right now it's just about getting all my work done and bulking up a little bit. I'll start shooting fairly soon in New York." He then explained:
"I work out incredibly intensely six days a week and I eat every two hours. Mostly proteins and veggies. I consume at least 3,000 calories a day. I've already gained seven pounds in six weeks!… It is [a lot] for me! I weigh more right now than I've ever weighed in my whole life. I've always constantly had trouble putting on weight, so it's actually a whole lot for me."
Before he signed on, Sony was checking out candidates with "athletic body and good looks" for the role, possibly explaining DeHaan sculpting his physique. But shouldn't a more conventionally attractive Harry have less reason to be jealous of Pete? And could those bad feelings eventually manifest themselves as something terrible (duh, a Harry Osborn as Venom storyline) somewhere down the road? Think on it. The Amazing Spider-Man 2 is based on a screenplay from Alex Kurtzman, Roberto Orci and Jeff Pinker, with a first draft by James Vanderbilt. It also stars
Emma Stone
,
Shailene Woodley
,
Colm Feore
and
Sally Field
, and it hits the theaters on May 2nd, 2014.