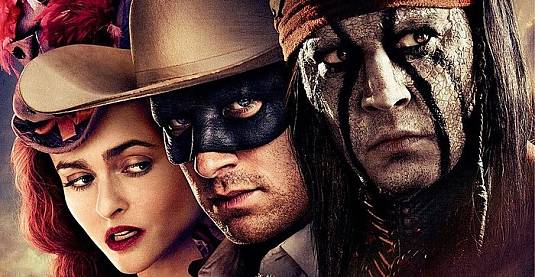 A few days ago we shared some pretty cool images and a brand new TV spot for The Lone Ranger, and as you already see – today we're here to give you another look at John Reid, Tonto and Red! Yep, the latest international poster for Gore Verbinski's upcoming movie definitely looks great, head inside to check it out… In The Lone Ranger the masked hero is brought to life through new eyes. Verbinski's western-adventure revolves around a Native American warrior Tonto and lawman John Reid, two unlikely heroes who embark on an epic battle against greed and corruption. Or, as Johnny Depp revealed:
…it was important to give as much back to the Native Americans as possible and to show that they have a fantastic sense of humor.
Well, we must admit that we're pretty excited about the movie, which is set to hit theaters on July 3rd, 2013. But we want to see more pics and posters for the movie, especially with Helena Bonham Carter (read: her legs.) After all, she already said:
That should be next month's poster, the leg. It's beautiful. So my bottom half is even more interesting. Any woman who runs her own business in the wild, wild West has to be a pretty strong character.
That's what we're talking about! Click on the poster for a better look & stay tuned for more!