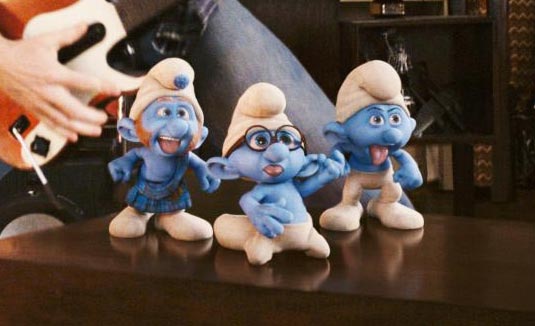 Columbia Pictures has released the first trailer for The Smurfs movie.
Scooby-Doo director Raja Gosnell takes the helm for this 3D live action/CGI comedy based on the popular characters created by Belgian cartoonist Peyo (aka Pierre Culliford).
Neil Patrick Harris, Jayma Mays, Sofia Vergara, and Hank Azaria star on camera opposite an all-star voice cast. Anton Yelchin will play Clumsy Smurf; comedy legend Jonathan Winters, who voiced roles in the "Smurfs" television series, will voice Papa Smurf; Grammy-nominated singer-songwriter Katy Perry will play Smurfette; Alan Cumming will play Gutsy Smurf; "SNL's" Fred Armisen will voice Brainy Smurf; and George Lopez will play Grouchy Smurf.

Neil Patrick Harris in The Smurfs (2011)
Synopsis: Set in the Middle Ages, the evil wizard Gargamel (Hank Azaria) discovers the Smurf's village and chases them into some woods. The Smurfs get scattered and Clumsy Smurf (Yelchin) wonders into a "forbidden" grotto and some of the other Smurfs follow. Since it's also a blue moon, a magical portal within the grotto transports them into Central Park in New York. They take shelter with a married couple (Neil Patrick Harris and Jayma Mays) and try to find a way back to their village before Gargamel finds them.
The Smurfs is due out in theaters on July 29th, 2011.
Download:
The Smurfs HD-Quality trailer 1080p [1920 px] − 131 Мb (QuickTime)
The Smurfs HD-Quality trailer 720p [1280 px] − 87 Мb (QuickTime)
The Smurfs HD-Quality trailer 480p [852 px] − 35 Мb (QuickTime)
Watch the first full-length trailer for The Smurfs embedded below.  Post you opinion about it and if you'd like it or not