Movie Posters
New THE WORLD'S END Quad Poster: Prepare To Get Annihilated!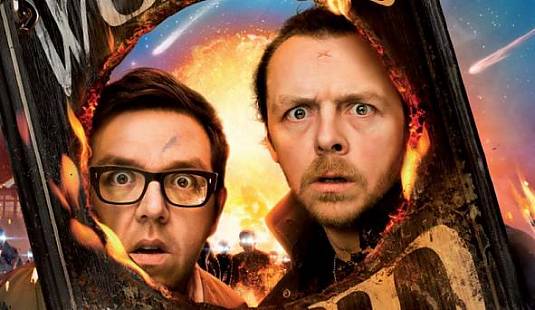 Two weeks ago we shared Cinema's annual trailer where you had a chance to take a little look at Edgar Wright's upcoming sci-fi comedy The World's End. Simon Pegg, Nick Frost, good food, fine alles, total annihilation, remember? Ok then, today we're back to share a brand new quad poster for the whole thing and to repeat: prepare to get annihilated! Wright directed the movie from a script which he co-wrote with Pegg, and as you already know, the film follows five childhood friends who reunite after twenty years to repeat a legendary pub crawl from their youth, returning to their hometown once again to attempt to reach the fabled pub.
20 years after attempting an epic pub crawl, five childhood friends reunite when one of them becomes hellbent on trying the drinking marathon again. They are convinced to stage an encore by Gary King, a 40-year-old man trapped at the cigarette end of his teens, who drags his reluctant pals to their hometown and once again attempts to reach the fabled pub – The World's End. As they attempt to reconcile the past and present, they realize the real struggle is for the future, not just theirs but humankind's…
The World's End cast includes Simon Pegg, Nick Frost, Martin Freeman, Paddy Considine, Eddie Marsan and Rosamund Pike, and the movie is set to open on August 23rd, 2013. Click the poster for a bigger version & stay tuned for more updates!