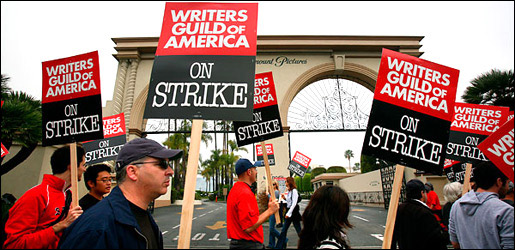 As you may have heard, there's a big brou-ha-ha going on in Hollywood with the Writers Guild of America (WGA) picketing the big studios for a fairer wedge of the almighty dollar. As the protest rolls into its third month, production has halted on a huge number of top-rated TV shows and hotly-anticipated flicks – forcing us to face the very real possibility that 2009 will be a very bad year for films.
What's The Strike All About Then?
The WGA is basically calling out for more money and a fairer deal from their paymasters, the Alliance of Motion Picture and Television Producers (AMPTP). The trouble stems from major changes in the industry for which the WGA claims they are not being adequately compensated. Since the rise of "new media" (that's the Internet, in case you were wondering) and the boom in DVD sales, the scribes are calling out for royalty payments to be brought into line. The studios, however, don't agree, hence 12,000 hacks downing pens and picking up placards on November 5, 2007.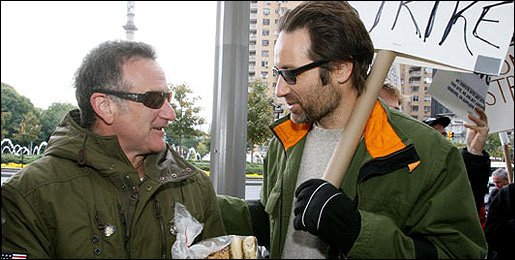 Why Don't The Studios Just Pay Up?
The big fish aren't particularly keen to part with their green and have been standing by a previous agreement drawn up after the last writers strike in 1988 when the union stopped working for a colossal 22 weeks – during which time, classic TV show Moonlighting was cancelled with countless others suffering a huge dip in quality and rubbish flicks such as Earth Girls Are Easy, Halloween 4 and cack Bond movie Licence To Kill were shot. Following the 1988 protest, it was agreed that the scribblers would be entitled to a small percentage of home video sales (0.3%-0.36% of any profits made). The current argument about internet programming is countered by the producers who claim that they make no money from such 'promotional' downloads.
What's The Union's Problem?
The WGA claims an unfair deal as members only rake in a measly 5 cents from every $19 DVD sold and don't make anything at all from internet content (live streaming, webisodes, staight-to-internet content etc), which is often supported by online advertising or sold as downloads on the like of iTunes and Amazon Unbox. The union wants a fairer deal to the tune of 8 cents for DVD sales and 2.5% of new media profits – as well as plumping for WGA benefits to be extended to previously unaffiliated reality show writers and animation scriptwriters – and they want it now!
Who's Involved In The Strike?
You name them, they're in it. Family Guy creator Seth McFarlane has been particularly outspoken, while the likes of Buffy boss Joss Whedon and Heroes creator Tim Kring have all refused to put pen to paper. Also showing solidarity are the multitude megastars of the Screen Actors Guild (SAG), including the likes of Jack Black, Julianne Moore, David Duchovny, Robin Williams and, unsurprisingly, Tim Robbins, who have all hoisted placards on the picket line. Independent companies unaffiliated with the strike, including chat show king David Letterman's Worldwide Pants Incorporated, have returned to the screen but are still pledging support. It's not limited to actors and writers either: the strike has ground many TV and film productions to a halt, meaning that the entire crew from sound engineer to key grip have been forced out of work and will in large part remain unpaid and unemployed until the situation is resolved.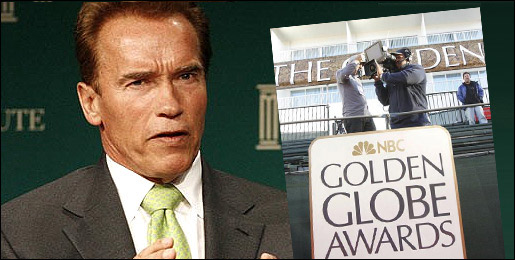 Negotiations continue on both sides (even California governor Arnold Schwarzenegger has tried his hand at mediating in an effort to sort things out) but no agreement has yet been reached. Foreseeing the possibility of a strike, studios accelerated production of films and TV shows in an effort to stockpile enough material to see them through the strike. However, as time marches on and with the plug already pulled on the Golden Globes and the Academy Awards under threat (plus the possibility of the SAG and the Directors Guild of America (DGA) joining the fray when their contract comes up for renewal this year), the chips do appear to weigh heavily on the side of the WGA.But How Does This Affect Me? Basically, anything that wasn't on its final draft before November 5 is unlikely to see the light of day. TV fans have been particularly hard hit with the new season of 24 postponed indefinitely, meanwhile the latest series of Lost may only air a handful of episodes and The Simpsons, Family Guy, King Of The Hill and American Dad are all caught up in the argument. Many of America's shows in the 2008-2009 season only managed to put out 8-12 episodes instead of their usual 22-24, some cutting off mid storyline. While the TV shortage has yet to impact British viewers, US audiences are already languishing in re-run hell. Movie-wise, The Da Vinci Code prequel Angels & Demons has hit the skids, with Oliver Stone's Pinkville, the Johnny Depp-starring Shantaram, Rob Marshall's musical Nine, Matthew Vaughn's comic-book adaptation Thor, the third Narnia adventure and the Transformers sequel all following suit. Simply put, if the strike rolls on we could, like our American cousins, be forced into watching nothing but repeats and hastily assembled reality dross by the end of the year.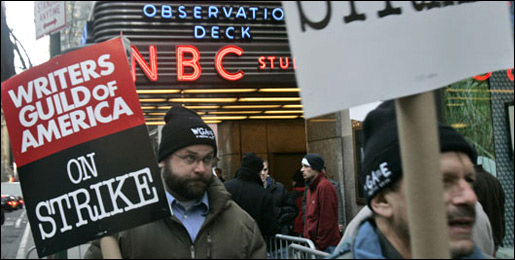 In A Nutshell Then?
If neither side gives in, we're faced with, at best, a huge dip in movie and TV quality. At worst, no movies, no telly, nothing… except more reality shows and the option to go outside and play in the sunshine. Any films that are currently in production will not be allowed to have their shooting scripts doctored by a WGA member, slamming the door shut on any notions of improving the movie while in production. Simply put, unless the script was shit hot prior to the strike or an unaffiliated best boy decides to pick up a pen, we're faced with the distinct possibility that the coming year could herald some real cinematic stinkers.
So, How Is It All Going To End?
Really, this thing could roll and roll. Negotiations were due to resume in November but neither side are ready to budge and with insiders claiming this could go on until June this year (when the SAG and the DGA could very well get involved), resolution does not seem to be in sight.
[youtube]http://www.youtube.com/watch?v=oJ55Ir2jCxk[/youtube]