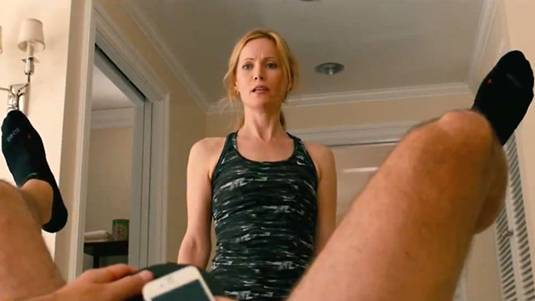 A new poster has popped up, courtesy of Argentinian site Cine 1 for
Judd Apatow
's 'sort-of sequel to Knocked Up',
This is 40
. After supporting roles in the first film,
Paul Rudd
and
Leslie Mann
are definitely hogging the spotlight this time around as new comedy expands upon the story of Pete (Rudd) and Debbie (Mann) from the blockbuster hit Knocked Up as we see firsthand how they are dealing with their current state of life. New cast members include
Megan Fox, Albert Brooks, John Lithgow, Chris O'Dowd, Melissa McCarthy, Lena Dunham
and Apatow's kids Maude and Iris. Take a look at the new poster for This is 40: Rudd poops with his iPad, which perfectly captures that bit of mid-life crisis as he's talking about whatever he's reading on the iPad… with the door open. Apatow's new raunchy comedy hits theatres on December 21st, 2012.
The poster has been removed at the request of NBC Universal.