Movie Photos
THOR: THE DARK WORLD Set Photos Reveal Stage for Battle Scene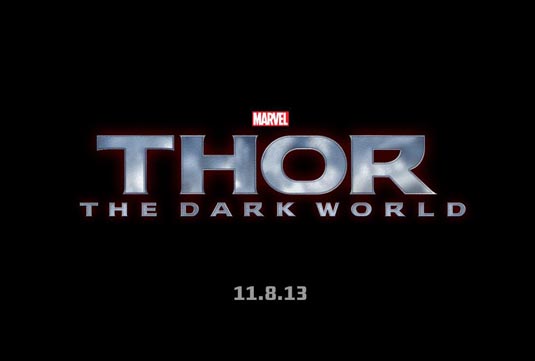 You can't help but sometimes thank to paparazzi and paparazzi-enthusiasts – sometimes they CAN be actually useful. Thanks to one of them and their Twitter acount, three set photos from the shooting of Thor: The Dark World have surfaced on the web. Have a look at them after the jump.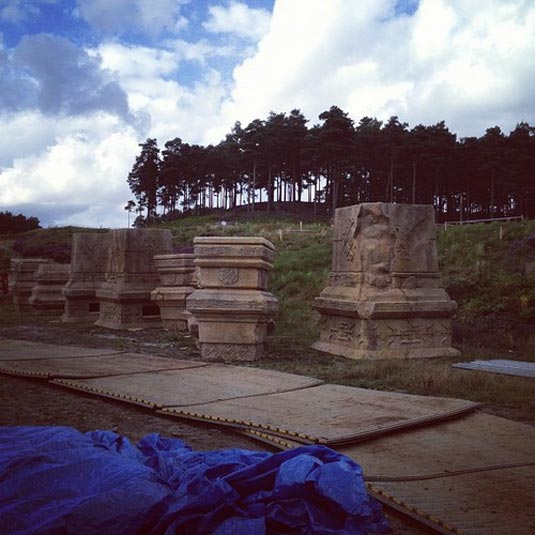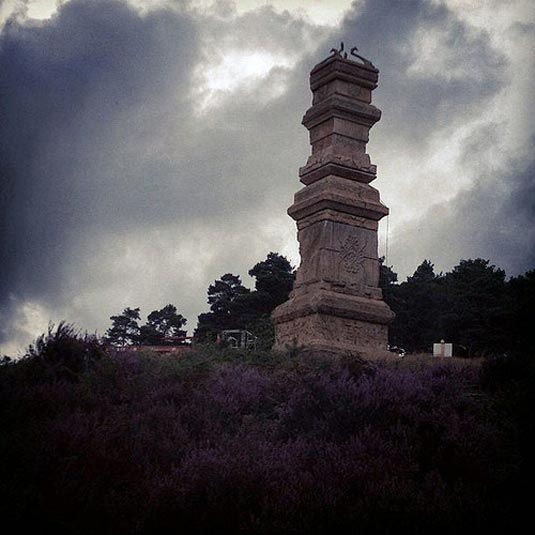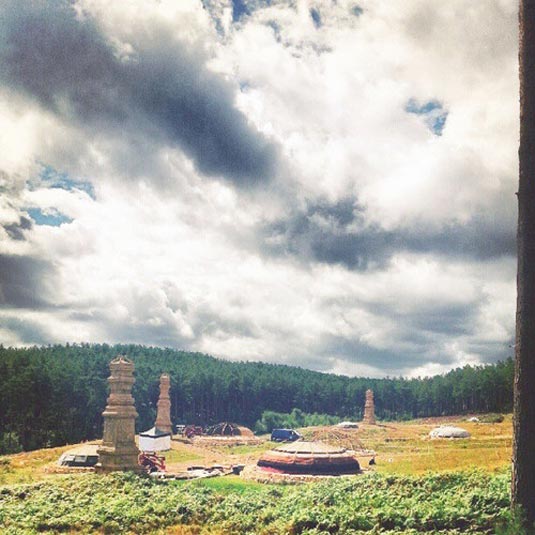 Described as a "fictional village set in another realm," the set began being constructed on August 6th and will reportedly serve as a scene for a battle between two realms. In addition to the details included in a letter to the townsfolk below, these photos offer a closer look at some of the fictional village's architecture as well as the beautiful surroundings. Here's the cited letter:
We are writing to let you know about some filming about to be undertaken in Bourne Wood in the coming months. Please find a brief overview and introduction to this project. "Thursday Mourning" is the working title of a major feature film. It is comic book adaptation set in another "fictional realm". We plan to start preparation in Bourne woods in the week of 6th August for a period of 5 weeks where a temporary set will be constructed within the bowl area. Filming is scheduled to take place for approximately 10 days from 10th September TBC. All of the proposed sequence is due to take place during the day. There is no night filming. We will be establishing a fictional village set in another realm, with yurts and village like dressing in the bowl. The sequence involves a battle between two kingdoms, ending in our comic book hero arriving to save the day. The sequence will involve a substantial amount of Stunts and controlled special effects all within the hours 0700 – 1900hrs. We plan to use most of the areas that are usually occupied by film units for all our support vehicles. The sequence will involve approximately 300 extras who will arrive in the early hours prior to call time to go through costume and makeup, which we will undertake in marquees positioned on site. As always we will endeavour to keep any noise disruption to an absolute minimum. We will have very friendly security looking after our set and trucks (most of whom you have probably met before) and to ensure that all members of the public can still enjoy the woods and walk your dogs as normally as possible. We may have to seal our set off periodically to members of the public for safety reasons as there will be quite a lot of activity at certain times. On completion of filming, we will remove all temporary sets and associated equipment and will be completely vacated from Bourne woods by the 13th October. I know you are all very used to filming in the woods and thank you in advance for your patience and cooperation regarding our planned filming.
Directed by Alan Taylor, Thor: The Dark World is expected to arrive in theaters on November 8th, 2013, and it stars Chris Hemsworth, Natalie Portman, Tom Hiddleston, Anthony Hopkins, Stellan Skarsgard, Idris Elba Christpher Eccleston, Zachary Levi (remember him, from the TV series Chuck?) and Rene Russo.