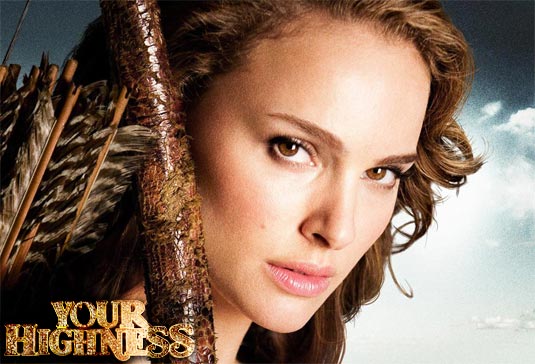 Universal Pictures have debuted three new character posters for medieval swords-and-sorcery stoner comedy Your Highness, starring Natalie Portman, James Franco, and Danny Mcbride.
Your Highness finds James Franco as Prince Fabious, destined to marry the beautiful and virginal Belladonna (Zooey Deschanel). But when she's kidnapped by the evil sorcerer Leezar (Justin Theroux), he sets out on a quest to rescue his ladylove. And his lazy, arrogant brother Thadeous (Danny McBride) is sent along under orders from their father (Charles Dance). As they battle dangerous creatures and meet pot-loving beasts, they also cross paths with the warrior woman Isabel (Natalie Portman).
The movie, directed by David Gordon Green, also stars Toby Jones and Damian Lewis. The script was written by McBride and Ben Best, with the two previously having worked together on Eastbound & Down and The Foot Fist Way.
Your Highness will be released in theaters on April 8, 2011.

Natalie Portman, Your Highness