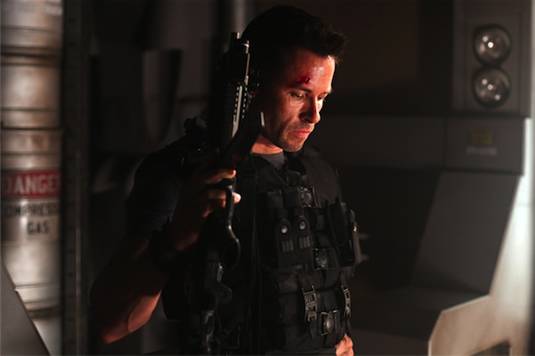 An upcoming sci-fi actioner
Lockout
, also known as MS One: Maximum Security could very well be the sleeper hit of the spring/summer movie season. Besides, this season belongs to
Guy Pearce
, a guy who appears in four major theatrical releases in 2012: Lockout, Prometheus, Seeking Justice and The Wettest County. Despite he has been absent from any big screen box office successes for some time, it looks like Pearce has a very tough job to pull off as a man wrongly convicted of conspiracy to commit espionage against the U.S. is offered his freedom if he can rescue the president's daughter from an outer space prison taken over by violent inmates. From rising directors
James Mather
and
Stephen St. Leger
, the Lockout hits theaters on April 13h, 2012. Film, co-written by famed sci-fi and action film director,
Luc
Besson
, also starring Maggie Grace in a role of the president's daughter. She said in a recent interview:
It's a return to sci-fi in space. It's not a dystopian ruined planet earth. It's a throwback, in a good way; a return to action movies the way they were in the late 1980's and early 1990's, when they didn't take themselves too seriously. It's a fun romp and definitely an action/sci-fi movie, but for me more than anything, it was about a fun, sexually charged, adversarial relationship between my character and Guy Pearce's s character Snow.
Just watch this TV Spot. [youtube]http://www.youtube.com/watch?v=T0bOWkZul6c[/youtube]