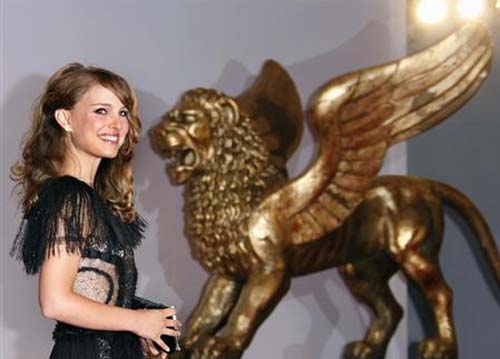 Natalie Portman
presented her debut as a director at the
Venice Film Festival
on Tuesday with a short movie "
Eve
" about a young woman who is dragged along to her grandmother's romantic date.
A young woman, Kate, goes to visit her grandma Lola for a private dinner. She is surprised to find she is instead the third wheel at her grandma's date with Joe.
"Eve" (17 minutes), screening out of competition in the Venice short film section, star
Lauren Bacall
,
Ben Gazzara
and
Olivia Thirbly
. Portman, 27, said she had always had a fascination with the older generation, and drew inspiration for Bacall's character from her own grandmother. Getting Bacall on board was like fulfilling her "wildest dream", Portman said.
"It's so exciting to see someone with that much experience and that much wisdom on screen. It's rare. The film was definitely inspired by personal experience and also all my friends, female friends, starting to define themselves in relation, and in reaction to, their mothers and their grandmothers"
Having started her acting career as a child, she said that she had long wanted to be on the other side of the camera and will present a second short work at the Toronto film festival which starts later this week.
"I have been working now in films for 16 years…it was exciting to know what a director goes through and also to create something completely on your own. When you are an actor of course you are creating something but you are serving someone else's vision and ultimately it's someone else's creation. To have authorship is … and feels like a more adult job."
Early reviews have been positive.