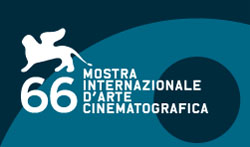 This year's Venice Film Festival has announced the nine films in competition for the event's first 3-D award. They are all from the US.
"Up" by Pete Docter
"Coraline" by Henry Selick
"Battle for Terra" by Aristomenis Tsirbas
"Monsters vs. Aliens" by Rob Letterman and Conrad Vernon

"Ice Age: Dawn of the Dinosaurs" by Carlos Saldanha
"Jonas Brothers: The 3-D Concert Experience" by Bruce Hendricks

"The Hole" by Joe Dante
"Journey to the Center of the Earth in 3-D" by Eric Brevig
"My Bloody Valentine" by Patrick Lussier
Two of these movies will appear in the fest lineup – "Up" by Pete Docter, which features in the Venice Pixar program, and "The Hole" by Joe Dante, which has its world premiere.
In addition, this year's lineup will feature 3-D pics by local directors David Zamagni ("Daimon") and Nadia Ranocchi ("Cock-Crow") in the new Orizzonti 3-D section.
Venice Film Festival will run 2nd to 12th September 2009.