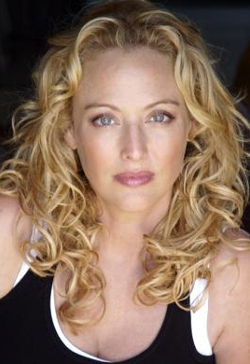 Red Riding Hood is an upcoming Catherine Hardwicke's project that's already being described as "gothic horror reimagining" of the classic Grimm Brothers tale.
That sounds pretty interesting, especially now, when we know that Virginia Madsen has joined the cast of this movie! Not bad choice for an on-screen mother of the title character, ha?
So, Virginia Madsen joins a cast that already includes Amanda Seyfried, Max Irons, Shiloh Fernandez, Gary Oldman, Julie Christie and Lukas Haas.
Madsen, probably best known from acclaimed 2004 indie "Sideways", will play Seyfried's mother (who plays the titular heroine), or, if you prefer "the woman who is trying to convince her wayward daughter to stick to the family plan and also to stay out of the woods."
Julie Christie has been cast as the grandmother, Gary Oldman will be the werewolf hunter, while Lukas Haas will portray the big bad werewolf that "terrorizes Red's village."
New to this version of the fairy tale features an orphaned woodcutter, played by Shiloh Fernandez, and a blacksmith's son, played by Max Irons – "the former object of Red's love and the latter her foredestined fiance".
As you see, this already looks like very complicated love story…
Twilight director Catherine Hardwicke is directing the film from a script by "Orphan" writer David Johnson, and Warner Bros is teaming with Leonardo DiCaprio's production company to make this big screen version of Little Red Riding Hood, the dark, dangerous, romantic story that should appeal to Twilight fans.
Movie comes to theaters March 11, 2011. Stay tuned!