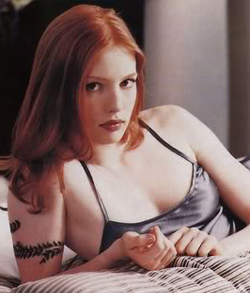 Lovely
Alicia Witt
has been added to the cast of the long awaited sequel of the 1998 comedy
Free Enterprise
. Witt will join
William Shatner
in the sequel to this romantic comedy movie about "two aspiring nerdy movie makers who meet their idol, Shatner." The original movie has gone on to become kind of a cult-geeks-classic, and also starred Erick McCormack and Rafer Weigel. The plot revolved around two wannabe filmmakers and Star Trek nerds, who finally meet their idol: William Shatner. Shatner turns out to not be the strong, confident leader they were expecting. In fact he's the total opposite. So, Shatner has previously confirmed that he would be back for the sequel saying: "Free Enterprise…remember the film? Well we are doing a sequel, Free Enterprise 2. So they have got me involved in some fun stuff. And I will be shooting that in the next month or so." Then,
Isaiah Mustafa
(from the Old Spice commercials) revealed that he also has a role in the upcoming sequel. Good for him! But then, another rumor came, and
Eliza Dushku
may join this sequel as well. And today we learned that Alicia Witt best known from her roles in
Four Rooms, Vanilla Sky
and
88 Minutes
is involved in the whole thing as well. So, we must admit that with this cast, this sequel could be something interesting. The sequel, which is described as "Swingers for sci-fi lovers", is expected to shoot this July. With every new info about this project, we'll be back, so stay with us!