Movie News
Warner Brothers Releasing Splice on June 4, 2010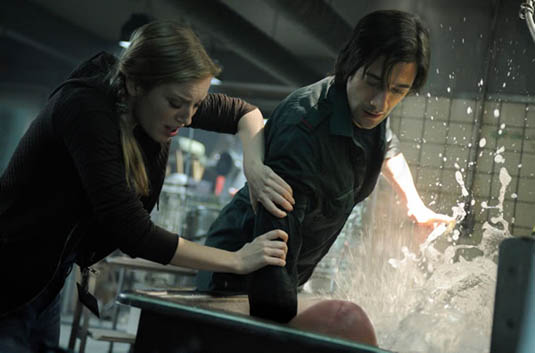 Premiered at this year's Sundance Film Festival,
Splice
, ended up selling to Joel Silver's Dark Castle label distributed by Warner Bros. Warner Bros. has already set a June 4, 2010 release date. This psychological Sci Fi thriller is really twisted and awesome as we know that two young rebellious scientists try to splice together human and animal DNA to create a new organism. With the modest budget for the film which looks like a Hollywood produced film this is a huge bet by Dark Castle to turn Splice into a
Paranormal Activity
-like success. We can expect a trailer to be released very soon but until then don't miss already released great
clip from the Splice
The Sci Fi is directed by
Vincenzo Natali
, best known for his ventures into the world of science fiction in movies like the cult classic
Cube
and
Cypher
. Vincenzo Natali also wrote the script with Antoinette Terry Bryant and Doug Taylor. The film stars
Adrien Brody
and
Sarah Polley
as Clive and Elsa, the superstars of the genetic engineering world. They specialize in splicing together DNA from different animals to create fantastical new hybrids. The charismatic couple wants to use human DNA in a new hybrid – something that could yield astronomical medical benefits. The pharmaceutical company that funds their research, however, is more interested in exploiting their earlier triumphs for easier, short-term profit. Clive and Elsa secretly conduct their own experiment. The result is Dren: an amazing creature who exhibits an array of unexpected developments, both physical and intellectual. Dren exceeds their wildest dreams… and, ultimately, their most terrifying nightmare.
Splice
also stars
Delphine Chaneac, David Hewlett
and
Brandon McGibbon
.