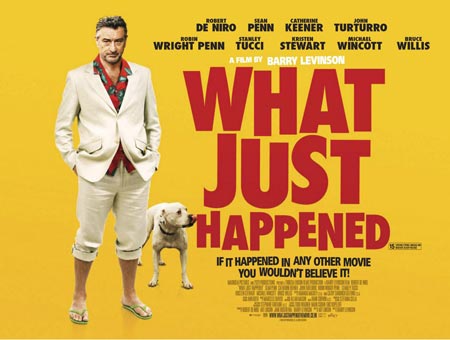 Today we have newly released "What Just Happened?" poster.
Barry Levinson's "What Just Happened?" is based on Art Linson's memoir (book and screenplay) about his experiences as a Hollywood producer.
Rober De Niro will play a Linson-like producer who is going through two weeks of hell as he tries to get a picture made. Sean Penn and Bruce Willis play themselves.
"What Just Happened?" Review:
One minute – or to be more precise, for 101 minutes – Robert De Niro's likeable, put upon producer Ben is juggling the director from Hell (Michael Wincott), a ball-breaking boss (Catherine Keener) and a star who refuses to shave off his beard in time for principle photography (Bruce Willis), and the next Brad Pitt wants him to make a project about a flower arranger and he's right back on top.
As a result, it's hard to take WHAT JUST HAPPENED? as anything other than light entertainment, which is disappointing given it's based on the memoir and subsequent script by Art Linson, the producer behind FIGHT CLUB and HEAT, and from the veteran director Barry Levinson (RAIN MAN, GOOD MORNING VIETNAM)… continue reading