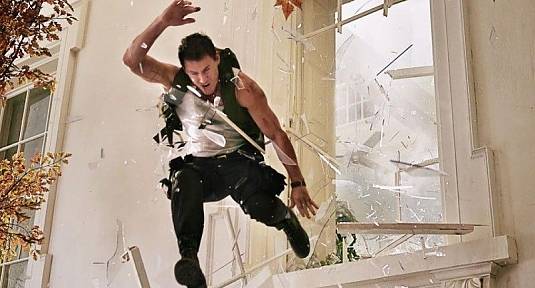 Let's be honest – this (almost 4 minutes long) featurette for the upcoming
White House Down
movie is all about
Channing Tatum
! Fuck the Presidential limo (aka
The Beast
), fuck the rest of the team, Tatum rocks and that's a fact! Head inside to take a look, this guy is more than ready to sacrifice his life and save the President! We already shared some pretty cool
trailers
for
Roland Emmerich
's upcoming action flick, so you already know all important details about the movie, right? In case those trailers are not enough for you, we also have some great
TV spots
and
images
from the whole thing, and we definitely recommend you to check them out. Tatum stars as Capitol Policeman John Cale who has just been denied his dream job with the Secret Service of protecting President James Sawyer, played by
Jamie Foxx
.
The rest of the story goes like this:
Not wanting to let down his little girl with the news, he takes her on a tour of the White House, when the complex is overtaken by a heavily armed paramilitary group. Now, with the nation's government falling into chaos and time running out, it's up to Cale to save the president, his daughter, and the country.
Beside Tatum and Foxx,
White House Down
also stars
Maggie Gyllenhaal
,
Jason Clarke
,
Richard Jenkins
and
James Woods
, and the movie is set to hit theaters on June 28th, 2013. Looks good, or what?