Movie Posters
New Poster For WHITE HOUSE DOWN, Starring Channing Tatum & Jamie Foxx!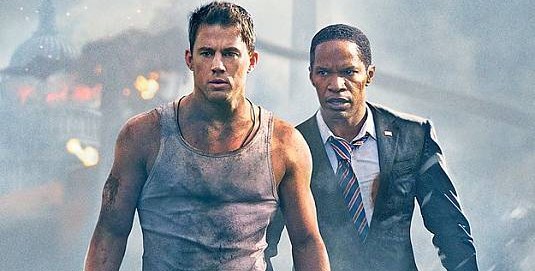 After yesterday's new
trailer
for the upcoming action thriller
White House Down
, Columbia Pictures has revealed a brand new poster with
Channing Tatum
and
Jamie Foxx
. As you're about to see – nothing spectacular about this new image, just a little reminder that next month –
it all goes down
…
Roland Emmerich
directed the movie from a script written by
James Vanderbilt
, and the whole thing revolves around Tatum's character – Capitol Policeman John Cale who has just been denied his dream job with the Secret Service of protecting President James Sawyer, played by
Foxx.
Not wanting to let down his little girl with the news, he takes her on a tour of the White House, when the complex is overtaken by a heavily armed paramilitary group. Now, with the nation's government falling into chaos and time running out, it's up to Cale to save the president, his daughter, and the country.
White House Down
also stars
Maggie Gyllenhaal
,
Jason Clarke
,
Richard Jenkins
and
James Woods
, and the movie is set to open on June 28th, 2013. Click on the poster to take a better look & stay tuned for more updates!