Movie Posters
WHITE HOUSE DOWN Teaser Posters; Trailer Out on Tuesday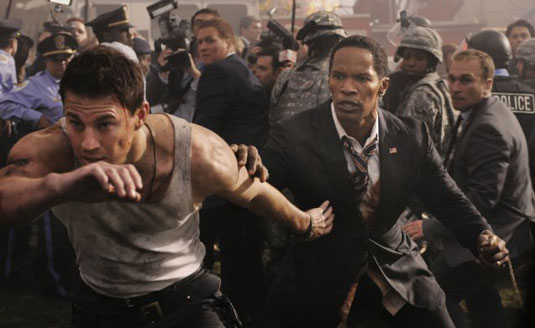 "It will start like any other day", say the first two posters for Roland Emmerich's action-and-explosions-packed film, White House Down. The first trailer for White House Down will be out on Tuesday afternoon so while waiting for it and a third poster, check out these two, thanks to Moviefone:
These posters suggest the marketing campaign, at least in print, will get increasingly crazy leading up towards a theatrical poster with a White House on fire complete with Tatum and Foxx holding guns and stuff. What do you think? The movie stars Channing Tatum as a secret service agent who finds himself in the White House when a group of terrorists take over. And no, you didn't see that movie this weekend, that one was Olympus Has Fallen. Synopsis:
While on a tour of the White House with his young daughter, a police officer (Channing Tatum) springs into action to protect his child and the president (Jamie Foxx) from a heavily armed group of paramilitary invaders.
White House Down co-stars Maggie Gyllenhaal, James Woods, Jason Clarke, Richard Jenkins, Lance Reddick and Joey King. UPDATE: Here's the third poster, as promised, though I'm late a bit, and for that I apologise: