Movie News
Will Eisner's A Contract With God Movie Adaptation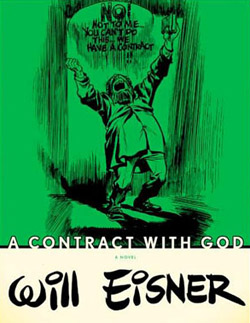 Will Eisner
's graphic novel
A Contract With God
is being adapted into a live-action feature, and producer Darren Dean will be in charge for the adaptation. This definitely looks good, since four screenwriters will be behind the short stories that makes up the novel:
Alex Rivera, Tze Chun, Barry Jenkins
and
Sean Baker
. But, we guess that this kind of story deserves the best team… Here's a description: "The work consists of four short stories –
A Contract With God, The Super, The Street Singer
, and
Cookalein
– all set in a Bronx tenement in the 1930s, with the last story also taking place at a summer getaway for Jews. The stories are semi-autobiographical, with Eisner drawing heavily on his own childhood experiences as well as those of his contemporaries. Utilizing his talents for expressive lettering and cartoonish figures, he links the narratives by the common setting and the common theme of immigrant and first-generation experiences, across cultures." So, like we said, for A Contract With God Alex Rivera (from "Sleep Dealer") is in charge, Tze Chun (from "Children of Invention") for The Street Singer, Barry Jenkins (from Medicine for Melancholy) for The Super and Sean Baker (from "Prince of Broadway") for Cookalien. Producers have stated they will strive to remain faithful to the feel and spirit of Eisner's original vision, and although principal photography is set to start in 2011, there's still no word on who will be cast on the production yet.