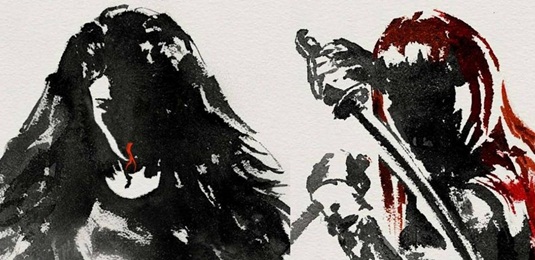 While we wait for a today's brand new trailer for The Wolverine there are a couple more cool character posters in the same vein as the initial poster in watercolor and ink paintings done in the classic Japanese style of brush work called Sumi-e. The initial teaser featuring a painted Hugh Jackman as Wolverine and these two designs focus on the characters of Yukio, an assassin, thief and sometime ally of Logan from the comic books (Rila Fukushima) and the villainous Viper (Svetlana Khodchenkova). James Mangold's The Wolverine opens July 26th, 2013, co-starring Will Yun Lee, Hiroyuki Sanada, Brian Tee, and Tao Okamoto. Check out the new posters below.
Here's the official synopsis:
Based on the celebrated comic book arc, this epic action-adventure takes Wolverine, the most iconic character of the X-Men universe, to modern day Japan. Out of his depth in an unknown world he faces his ultimate nemesis in a life-or-death battle that will leave him forever changed. Vulnerable for the first time and pushed to his physical and emotional limits, he confronts not only lethal samurai steel but also his inner struggle against his own immortality, emerging more powerful than we have ever seen him before.