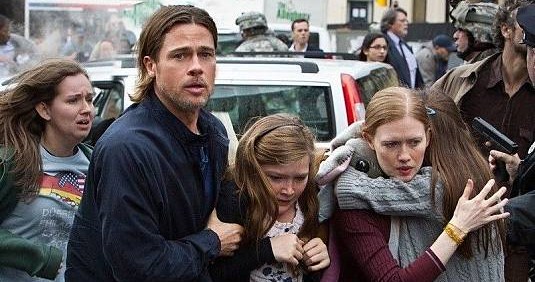 Hope you're ready for more World War Z updates, 'cause we have two new TV spots for the whole thing! There will come a day when the world we know will end, remember? But the good thing is that one brave guy (let's call him Brad Pitt, ok?) will try to find a way to stop the disaster. Check him out! As you already know, director Marc Forster stands behind this action thriller which is based on Max Brooks' novel of the same name. It follows a worker at the United Nations who searches the globe for information that can stop the zombie outbreak that is bringing down nations. [jwplayer mediaid="152244″] In other words:
The story revolves around United Nations employee Gerry Lane, who travels the world in a race against time to stop a pandemic that is toppling armies and governments and threatening to decimate humanity itself.
[jwplayer mediaid="152245″] Beside Pitt who plays that Gerry guy, the rest of the cast also includes Mireille Enos as his wife, Abigail Hargrove as their daughter, Daniella Kertesz, James Badge Dale, Matthew Fox and David Morse. In case you've missed our previous reports, we definitely recommend you to check out the trailer, poster, set photos and featurette for the movie. Don't forget – World War Z open on June 21st, 2013.